Welcome to In Focus!
The University of Missouri System
Finance & Administration quarterly newsletter

Vice President Krawitz
Integrity is the highlight of this quarter´s InFocus newsletter. We value integrity by conducting our work, individually and collectively, with the highest standards of performance and quality assurance. Maintaining Integrity between our actions and principles, methods and measures, is crucial to the vision of providing value-added services for the University and our stakeholders.
Spotlight on Office of the Treasurer - The group that oversees all investments for the University - who strive to operate with the highest level of Integrity in many financial functions. Learn more about this office within Finance & Administration.
Account-Ability - "On the Road Again" - Mileage reimbursement has increased starting July 1, 2008 thru December 31, 2008. Make sure you are reimbursed for the correct mileage rate for business miles driven during the last six months of 2008.
Risky Business - Faculty, students, and staff of the University travel all over the world, and pre-planning of risk involved has shown to be a beneficial proactive step in minimizing surprises. Check this month to see "Where in the World is Risk Management?"
On the Drawing Board - "UMKC - Miller Nichols Library Renovation & Interactive Learning Center Addition" ­ This 3-phase project renovates the existing building and builds 2 additions for collaborative learning, library instruction, and Information Technology. The highly innovative design concept will address critical research and teaching deficiencies for UMKC and the community through a hybrid multi-use facility. Check out the design concept!
Compliance Corner - ** NEW** - This new column´s focus is on Sponsored Programs and compliance issues which may impact grants awarded to the University.
Hats Off - To University employees who have given Exceptional Customer Service that assists Finance & Administration achieve our goals. Check out those award winners!
The goal of the newsletter is to enhance our customer service by providing information that will support the work that you do for the university. As always, we welcome your feedback and your contributions.
- Natalie "Nikki" Krawitz
Vice President for Finance & Administration
Spotlight
Office of the Treasurer
As the Treasurer of the University of Missouri, Shirley DeJarnette and her staff have the responsibility for investing billions of dollars of University financial assets, and all strive to operate with the highest level of integrity.
What are some of these financial functions? They include managing the University´s retirement assets and endowment funds, investing the University´s short-term cash, issuing debt for the University, managing banking and credit card services. The Treasurer´s Office functions as the steward or guardian of the University´s financial investments. [ read more ]


Account-ability
On the Road Again!
Make sure you are reimbursed for the correct mileage rate for business miles driven during the last six months of 2008. The IRS has announced an increase in business standard mileage rates effective for mileage incurred from July 1, 2008 through December 31, 2008 due to recent increases in gasoline prices.
Effective July 1, 2008, the University will reimburse employees for business mileage incurred consistent with the IRS standard mileage rate of 58.5 cents per mile, an increase of 8 cents over the 50.5 cent rate in effect for the first six months of 2008. In addition, the rate for medical and moving expenses will increase to 27 cents per mile, an increase of 8 cents per mile over the 19 cent rate in effect for the first half of 2008.

Risky Business
Where in the World is Risk Management?
In June, JoAnne Flowers, Assistant Director for Risk & Insurance Management (RIM) was invited by the MU Study Abroad office to participate in a site visit with one of the Universities partner programs in Argentina! It´s common for Study Abroad Coordinators to go on these preliminary trips, but it´s a brave new world for RIM.
[ read more ]

On the Drawing Board!
Current University Projects in Design
UMKC - Miller Nichols Library Renovation and Interactive Learning Center Addition
The University of Missouri-Kansas City´s Miller Nichols Library Renovation and Interactive Learning Center Addition builds two additions to the existing Miller Nichols Library and renovates the existing building.
The center will feature interactive, shared and multi-use spaces for collaborative learning, library instruction, and information technology to enhance instructional capacity to support campus wide enrollment growth as well as growth in library collections. The project will also create a signature architectural image that opens up the front door of the campus to the Brush Creek Cultural Corridor and the community, while also bridging the campus and the University Way pedestrian corridor.
[ read more ]

Compliance Corner
Keeping Compliant with Sponsored Programs
Effort Verification Reports - It´s that time again!
Is any part of your salary charged to a Research Grant? If so, then you can expect to receive an Effort Verification Report (EVR) in early August. Anyone who works on federal awards and contracts or is funded by work-study aid is required to certify and submit an EVR to document their effort.
This is a semi-annual process and these EVRs will cover the period from January 1 ­ June 30, 2008. The EVRs for this period will be distributed to departments on August 8th and should be returned to your campus Sponsored Programs Office by September 8th. Please check with your fiscal officers now to ensure the finance system reflects your actual effort worked toward Sponsored Projects. If this is not reflected, a Payroll Correcting Entry (PCE) may be required by August 7th to adjust the PeopleSoft Financial system before the EVR is produced.
Got questions? Be on the lookout for EVR training provided by your campus Sponsored Programs Office in late August or early September. This training should help answer those questions you have for completing your EVR.
The University anticipates producing, distributing, and collecting 8,500 EVRs this fall. The Office of the Controller manages the production of these reports, which are based on payroll records in the PeopleSoft Financial system. This is another example of financial compliance whereby 100% compliance with this requirement enhances our growth in federal funding.

News & Updates
Office of the Controller
Coming Soon ­ PI Quick Reference Guide
SHOW ME THE "Grant" MONEY! By maintaining Financial Compliance, the University will continue to receive Federal monies used in furthering our research mission! Ericka Kranitz, Director of Financial Compliance Training, is working on training programs for University faculty and staff to better understand and follow regulations related to administering Federal grant funds.
For Principal Investigators (PI) ­ those responsible for managing research grants ­ and administrators working with PIs, a handy Quick Reference Guide is nearing completion. Each campus will have customized guides to use as a resource tool to manage the complexity of Financial Compliance. Stay tuned!
As with all software and technology that we use today, the only constant theme is change. To keep up with the latest technology and functionality, the University of Missouri is preparing to upgrade the PeopleSoft Financial System from version 8.8 to 9.0. The target date for conversion is the week of November 24th.
We should not experience the complexity of change as in our last upgrade. The upgrade team is busy planning and testing to ensure a smooth transition. The web site below contains information to keep you up-to-date on our progress and to inform you of the "Who, What, When, and Why" of the upgrade. We will post monthly updates to this site in addition to regular communication with the Accounting, Budget, Procurement, and Sponsored Program offices on each campus. If you have any questions, please contact one of these campus offices or the Controller´s office at (573) 882-2412.
http://www.umsystem.edu/ums/departments/is/peoplesoft/schedule/fm.shtml
Procurement Services
And the winner is … UM Procurement Services!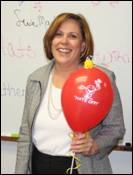 UM Procurement Services was awarded the 13th annual prestigious Achievement of Excellence in Procurement Award by the National Purchasing Institute! This award is earned by those organizations that demonstrate excellence by obtaining a high score based on standardized criteria. The criteria are designed to measure innovation, professionalism, productivity, e-procurement, and leadership attributes of the procurement organization. This award signifies that the national contracts and purchasing community recognizes University of Missouri Procurement Services as a "Best Practices" organization to be emulated by others. Congratulations!
Professional Certification Achieved!
Susan Potrafka, Manager of Procurement Services at Missouri S&T, recently received the designation of Certified Purchasing Manager (C.P.M.) from The Institute for Supply Management. The C.P.M. designation is the most recognized title around the world for supply management professionals. Susan has worked hard to achieve this certification by demonstrating her professional capabilities "…by passing four rigorous examinations, pursuing formal and continuing education, and working and contributing to the purchasing and supply management profession." Congratulations to Susan!
Professional Publication
The May 2008 issue of the National Contract Management Association´s (NCMA) Contract Management magazine includes an article entitled "Case Study: Using Strategic Procurement to Drive Contract Compliance at the University Of Missouri." The article, penned by Bill Cooper (Assoc. Vice President for Management Services and Chief Procurement Officer) focuses national attention on the University of Missouri´s actions to achieve strategic procurement and effective contract management. Read More by following this link to the NCMA´s website:
http://www.ncmahq.org/Publications/CMMArticleDetail.cfm?ItemNumber=3983
UM Records Management
Sharing the Knowledge
Did you know that the University of Missouri was the second educational institution in the country to establish a formal Records Management program? Our program was started in March 1964 and has built a reputation as one of the premiere records management programs in education through the integrity of maintaining the highest standards of performance and quality assurance.
Over the years, UM Records Management has been requested to provide information and assistance to many institutions and organizations. The most recent request came from Missouri State University (MSU) when they asked Director Cyndie Parks for assistance with improving their management of records. In discussion with MSU´s General Counsel and upper administration, Cyndie will share are our current UM records management program, policies and procedures, as well advise them on general records management practices, liability concerns, electronic records issues, e-mail retention and other current records management issues.
In this endeavor, as they have in the past and will continue in the future, UM Records Management looks forward to sharing knowledge and assisting our colleagues to improve their management of this important asset.
Minority Business Development
University of Missouri and the St. Louis Minority Business Council
Natalie "Nikki" Krawitz, Vice President for Finance and Administration, was chosen by the St. Louis Minority Business Council to serve on its Board of Directors. In addition to the University of Missouri System, representation on the Board includes the following corporations: AT&T, Monsanto, The Boeing Company, Enterprise Rent-A-Car, Anheuser Busch, Colliers Turley Martin Tucker, Corporate Express, Ameren U.E., Express Scripts, and others.
University of Missouri and the MidAmerica Minority Business Development Council
William "Bill" Cooper, Associate Vice President for Management Services and Chief Procurement Officer, served on a panel discussion, "View from the top: CEO Perspective" during the MidAmerica Minority Business Development Council´s Business Opportunity Fair in Overland Park, Kansas. Others on the panel included SPRINT-Nextel, Walton Construction, Burns & McDonnell and Kansas Speedway.
University of Missouri and MOKAN
At MOKAN´s (St. Louis Construction Contractors Association) 33rd annual awards reception and dinner, Cheryl Walker, Chair of the University of Missouri´s Board of Curators, received the "Distinguished Public Service Award" at the Renaissance Grand Hotel in St. Louis. Representatives and guests from UMSL, MU, and System accompanied Cheryl as she received this prestigious award.
Hats Off!
Hats Off Award Winners!
The HATS OFF AWARD is the recognition from F & A to those who have made an Exceptional Customer Service Contribution to the University of Missouri, specifically in the facilitation F & A objectives. We thank the following people for doing their jobs … and then some! [ read about the winners ]

Focus On: Answer
UMC Branson Field Laboratory ­ Lander, Wyoming
MU operates the longest continually running geology field camp in the United States. In 1911, a newly appointed geology professor, Edwin B. Branson, organized and lead a summer field camp in the location where he had done graduate work. This area near Lander, Wyoming has extensive geologic samples with excellent exposures of rocks … and has an agreeable summer climate and sparse vegetation.
In 1929, MU arranged an educational property lease from the U.S. Forestry Service which remains in place today. Each summer, 45 students and 9-10 faculty from all around the country are enrolled in this summer field course at this amazing University of Missouri site.