Welcome to In Focus!
The University of Missouri System
Finance & Administration quarterly newsletter

Vice President Krawitz
Finance and Administration strives continuously to achieve a high degree of Client Confidence and Trust. Confidence and Trust comes from our ability to make and keep promises and perform to expectations. We can do this through effective problem solving, functional expertise, service tailored to customer needs, and reliable and timely delivery.
Spotlight on

Facilities Planning and Development - This team of dedicated professionals has experience in facilities design & construction. Whether building a new building or renovating an old, from dormitories to state-of-the-art biocontainment facilities, FPD staff help maintain construction and University standards.
Account-Ability - "Counting on you to Count!" – It's inventory time again. A huge thanks to everyone involved with the semi-annual inventory of all equipment and plant assets required by federal law. These inventories also keep the University eligible for funding through numerous agencies!
Risky Business - "Just Drive" Cell phone use while driving a vehicle is dangerous. Think using a hands-free device is safer? Read on …
On the Drawing Board - "UMKC – Stanley H. Durwood Soccer Stadium and Recreational Field" – Opening in October of this year, this stadium will provide UMKC athletes, students and community groups with one of the top soccer facilities in the Midwest. The gift from the Durwood foundation to construct this stadium is another in their long history of supporting a variety of UMKC initiatives. Check out the design concept!
Compliance Corner - "Help! The Auditors are Here!" – When you've been given grant money and get a call from the donor about an audit or other information, contact the Office of the Controller. You can have the confidence and trust that they are current on the rules and regulations for handling these issues.
The goal of the newsletter is to enhance our customer service by providing information that will support the work that you do for the university. As always, we welcome your feedback and your contributions.
- Natalie "Nikki" Krawitz
Vice President for Finance & Administration
Spotlight
Facilities Planning and Development
Facilities Planning & Development (FPD) is a team of dedicated professionals with experience in facilities design & construction as well as other facets of facilities management.
Our mission is to support the University of Missouri faculty and staff throughout the system in planning and designing the capital investments needed to fulfill the University's mission.
[ read more ]

WISDOM'S CORNER
Featuring Challenging and Inspiring Thoughts
"If you once forfeit the confidence of your fellow citizens, you can never regain their respect and esteem. It is true that you may fool all of the people some of the time; you can even fool some of the people all of the time; but you can't fool all of the people all of the time."
Abraham Lincoln

Account-ability
Counting on you to Count!
Twice a year the University is required to complete a physical inventory of all equipment and other plant assets. Each fiscal office will receive the inventory reports in early April. The completion and return of this report by the deadline is crucial to meeting the University's federal compliance and external reporting requirements. For details see the Business Policy Manual BPM-407.

Risky Business
Just Drive ...
When you conduct University business on the phone while behind the wheel, you may put yourself and the University at risk. There were more than 262 million wireless cell phone subscribers, representing 84 percent of the US population, as of June 2008, according to the Cellular Telecommunications and Internet Association. Cell phone use while driving results in an estimated 2,600 deaths, 1.5 million accidents, and 330,000 injuries annually, according to Harvard University's Center for Risk Analysis.
[ read more ]

On the Drawing Board!
Current University Projects in Design
UMKC – Stanley H. Durwood Soccer Stadium and Recreational Field
The University of Missouri-Kansas City Stanley H. Durwood Soccer Stadium and Recreational Field will open in October 2009 and provide a new 850 seat grandstand, press box, team support building and synthetic recreational field. This project will provide a multipurpose facility that enhances campus life through increased opportunities for student recreation and intramural use, offer a high quality fan experience at intercollegiate sports events and other campus/community special events, and increase competitive opportunities for the University's intercollegiate soccer and track programs.
[ read more ]

Compliance Corner
For Sponsored Awards, it is not uncommon for the University to be contacted by sponsors to inquire about or to initiate a desk review or audit of an award (sponsors include both federal and state agencies, as well as private industry and foundations).
Although many inquiries begin with the Sponsored Programs Offices or the Controller's Office, in some cases, the department or Principal Investigator is notified directly. If this occurs, immediately notify your campus Sponsored Programs Office and Joe Sanning (sanningj@umsystem.edu) in the Controller's Office.
The role of the Controller's Office is to coordinate the inquiry or audit and serve as the liaison between the sponsor and the University unit. Our responsibilities include:
Determine the nature of the inquiry from the sponsor
Confirm the scope of the audit
Provide proper information and communication to the sponsor
Resolve any concerns or issues of the sponsor
Negotiate repayments or settlements, if applicable
The campus Sponsored Programs Office and the Controller's Office will work with your unit every step of the way throughout the entire process. The University's goal is to minimize unnecessary risks, ensure continued support for sponsored efforts, and minimize disruption to daily operations.

News & Updates
Procurement Services
Enterprise Rent-a-Car – NEW CONTRACT!
A new contract with Enterprise Rent-a-Car has been signed! The new agreement brings additional value to University employees needing to rent vehicles for local travel. Examples of this value are lower rates, drop off service and the ability to return the vehicle without filling the tank. When you return the vehicle with less than a full tank, Enterprise will fill it and charge you current pump prices by adding it to the bill – which means no more Travel Vouchers for just the purchase of gasoline!
In addition to the extra value for local rentals, Enterprise will also provide a custom web-page loaded with our University Rates for booking rentals, and a very useful tool called "Trip Optimizer" for calculating the cost difference between mileage reimbursement and rental costs. This will allow departments to choose the lowest cost alternative. This website is coming soon – stay tuned for information on the link.
This new contract also covers rentals nation-wide through Enterprise and their National Car Rental companies. With Enterprise, the daily rate is the same as local anywhere in the United States and Canada (there are some additional local charges in select locations). National even offers the custom service of on-site airport rental companies including free membership to Emerald Club – which allows you to bypass the counter and pick your own car. These benefits are still available to University employees traveling on personal business.
To use the services of this new contract, either call your local branch or book on-line using the University Code (XZ51005) and PIN number (UNI). At this time, you will have to use a credit card at the time of rental, but Procurement is working on alternate billing solutions. Stay tuned as the details of the implementation plan become finalized!

American Airlines Preferred Agreement
A preferred airline agreement between the University and American Airlines has been signed! Discounts run from 2% - 9% depending on the class of ticket booked.
To access the discounts airline bookings must be made through Great Southern Travel by calling them at (800) 749-7116. Stay tuned for on-line booking options!

Northwest Airlines Preferred Agreement
A preferred airline agreement between the Northwest Airlines and the University has been signed. Discounts run from 1% -- 6% depending on the class of ticket booked.
To access the discounts airline bookings must be made through Great Southern Travel at (800) 749-7116. On-line booking options coming soon!

Records Management
Disaster Plans – Are you Prepared?
With spring comes the threat of severe weather –lightening, heavy rain, flooding, hail, tornadoes, and more. All of these events can cause a disaster, including the loss of records. In 1998, Records Management experienced such a disaster and learned first-hand the benefits of having a disaster plan in place.
[ read more ]
Focus On: Answer
UMSL Richard D. Schwartz Observatory

Used throughout the year by UMSL students and faculty, this observatory houses a 14" Celestron telescope which is the largest aperture one-man transportable telescope made. Because of the tremendous aperture and superb optics, there is a thrilling "no imagination necessary" deep-sky observing of diffuse and planetary nebulae, open and globular star clusters, galaxies and binary stars.

This year is the International Year of Astronomy as it marks the 400th anniversary of the first astronomical observation through a telescope by Galileo Galilei. This is a global celebration of astronomy and its contributions to society and culture, with a strong emphasis on education, public engagement and the involvement of young people. As one of the oldest fundamental sciences, Astronomy continues to make a profound impact on our culture. During April 2-5, the Schwartz Observatory participated in the "100 Hours of Astronomy – An Event 400 Years in the Making". This was a worldwide Astronomy marathon to have as many people as possible look through a telescope as Galileo did for the first time 400 years ago. This timing coincided with the moon going from 1st quarter to gibbous – good phases for early evening observing. Saturn was also a highlight of early evening observing events.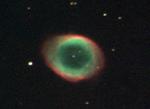 The UMSL Observatory has an active public outreach program from February through November each year. During these popular events, the public is invited to visit the observatory where a student or volunteer will point the telescope at various objects of interest, point out constellations, and answer general astronomy questions.
To see the 2009 open House Schedule, click on this link: http://www.umsl.edu/~physics/astro
Photos courtesy of UMSL Department of Physics & Astronomy
Saturn, Harvest Moon, Messier 57 (planetary nebula)