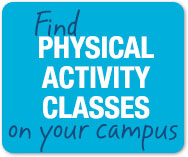 Resources: Rolla
Physical activity
Walking trail maps
Student Recreation Center
Missouri S&T Student Recreation Center
Available to faculty and staff at a rate of $10 per month; indoor track, racquetball courts, and indoor pool.
The City of Rolla Parks and Recreation Department
Rolla has more than 25 parks, ranging from neighborhood playgrounds to Ber Juan Park with a softball /baseball complex and tennis courts. Visit the website for dates/locations of local events.
Miner Golf Course or call 573-341-4217
Faculty and Staff Annual Pass $275 from Mar. 1 - Mar. 1
Fitness centers
For discounted fitness center information, go to the Discounts webpage.
Weight management, nutrition, and healthy food
Agriculture & Farmers' Markets
University of Missouri Extension
Stress management and wellbeing
MHNet Behavioral Health is an affiliate of Coventry and the administrator of mental health insurance through university medical insurance plans. You can find in-network mental health providers on the MHNet website.
Missouri S&T Employee Assistance Program - a confidential, professional service provided to all employees, their families, retirees, and organizational work units. The EAP provides a variety of services to help employees influenced by a range of personal concerns, including emotional distress, family concerns, alcohol/substance abuse, legal problems, occupational health, and more.
The Counseling Center at Missouri S&T
Health assessment, prevention, and education
Phelps County Regional Medical Center
PCRMC offers a variety of education classes and support groups. For more information, visit the web site or call PCRMC at (573) 458-7695.
The American College of Occupational and Environmental Medicine
American Heart Association (AHA)
Centers for Disease Control and Prevention (CDC)
Tobacco Cessation Services University Wellness Resource Center