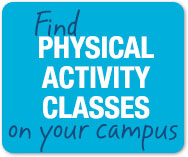 Resources: Kansas City
Physical activity
Walking trail maps
Fitness centers
Kansas City Parks and Recreation
Find out more about Kansas City parks, recreation, community centers and activities.
Swinney Recreation Center
As a Student Affairs agency, Swinney Recreation Center meets the ever-changing needs and interests of students and the campus community by providing programs, services, and facilities that are comprehensive, inclusive, and unsurpassed in quality. Swinney Recreation centers at Volker Campus and Hospital Hill are open to all UMKC faculty and staff for a minimal monthly fee.
Clean Commute Program
UMKC Clean Commute encourages students and faculty at the University of Missouri-Kansas City to ride bikes to campus through the semester-long loan of bikes from our on-campus facility. Any UMKC faculty or staff member may visit The Hub to get a non-loner bike repaired, volunteer, or learn more about alternative transportation options around Kansas City.
For discounted fitness center information, go to the Discounts webpage.
Weight management, nutrition, and healthy food
Agriculture and farmers' markets
University of Missouri Extension
Stress management and wellbeing
Counseling and family services
UMKC Employee Assistance Program
A confidential, professional service provided to all employees, their families, retirees, and organizational work units. The EAP provides a variety of services to help employees influenced by a range of personal concerns, including emotional distress, family concerns, alcohol/substance abuse, legal problems, occupational health, and more.
UMKC Counseling Center
The UMKC Counseling Center offers a free initial confidential psychological consultation to UMKC faculty and staff for a wide range of personal and emotional concerns. We will explore concerns and resources for follow-up, both within the university and the community. If the follow up is at the center, the fee is $20 per session.
MHNet Behavioral Health is an affiliate of Coventry and the administrator of mental health insurance through university medical insurance plans. You can find in-network mental health providers on the MHNet website.
Health assessment, prevention, and education
American Heart Association (AHA)
Centers for Disease Control and Prevention (CDC)