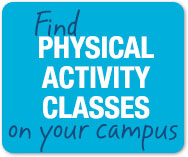 Discounts: Rolla
Physical Activity
Fitness centers
Anytime Fitness
201 S. Bishop Ave., Suite E, Rolla 65401
10% membership discount offered to S&T faculty and staff. 50% savings on key fee.
For more information:
The Centre
1200 Holloway Street, Rolla 65401
City of Rolla's Health and Recreation Center
20% membership discount offered to faculty and staff of S&T. To enroll, you must go online to access the Centre Enrollment Form, fill out the form and return it to the front desk at The Centre. Various programs are offered.
For more information, call (573) 341-2386 or visit website.
Curves
1425 Hauck Dr, Rolla 65401 and 1100 Historic Route 66 West, Waynesville 65583
Curves of Rolla and Waynesville would like to extend any female faculty or staff member, or wife of any male faculty or staff member, a corporate rate of FREE start up service fee and $34 monthly rate set up on an automatic debit. To speak with someone directly, call 573.364.4999 in Rolla or 573.774.3534 in Waynesville.
Weight management, nutrition, and healthy food
University of Missouri employees receive 40% off their initial consultation with a registered and licensed dietitian. Mary's state-of-the-art approach to weight loss and better health involves a mobile-based app and video conferencing sessions. You never have to leave the comfort of your home, you'll receive daily feedback on your food choices, and you will see results more quickly.
Miscellaneous
For additional perks and discounts, visit the Missouri S&T Staff Council website.