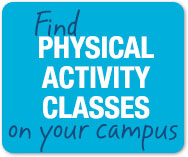 Discounts: Kansas City
Physical activity
Fitness centers
JCC Fitness
UMKC faculty, staff, and their families are eligible for a discount with the Jewish Community Center of Greater Kansas City. Outside of this agreement, the current annual membership rate is $79/month for individuals and $111/month for families. But, from December 2014 to September 2015, the UMKC rate is as follows:
0–9 new members: $92/month for families, $60/month for individuals
10–19 new members: $85/month for families, $56/month for individuals
20+ new members: $74/mo for families, $52/mo for individuals
YMCA of Greater Kansas City
Providing a wide variety of programs and services designed to enhance the overall spiritual, physical, and mental well-being of our entire community. There are 19 YMCAs located in the Kansas City metro area. **Special pricing for UMKC employees via Corporate Wellness Partnerships.
Retail stores
Garry Gribble's Running Sports stores in Kansas City, Overland Park, and Independence offer UMKC faculty and staff a 10% discount on all regular-priced merchandise, including shoes, clothing, accessories, and food. To receive your 10% off, (1) reference the "UMKC group discount" when checking out and (2) show your employee ID.
The Walking Company
All UMKC faculty and staff receive a 15% discount at stores nationwide. When shopping in a retail store, simply show your university ID to receive the discount. If shopping online, fax a copy of your university ID to (805) 962-3920, then call (828) 428-1490 to make your order and apply the discount. See the discount flyer (PDF).
Weight management, nutrition, and healthy food
Mary Wissmann, MS, RD, LD
University of Missouri employees receive 40% off their initial consultation with a registered and licensed dietitian. Mary's state-of-the-art approach to weight loss and better health involves a mobile-based app and video conferencing sessions. You never have to leave the comfort of your home, you'll receive daily feedback on your food choices, and you will see results more quickly.