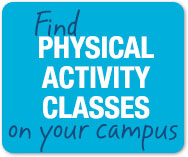 Discounts: Kansas City
UMKC Swiney Recreation Center (SRC) -- Free Bicycle Checkout Program
UMKC sells as many as 8,000 parking permits per year. If you consider each of those permits to represent one single-occupancy car trip per day, that represents a potential 2.92 million car trips annually to campus! As part of the UMKC Clean Commute program, you can check out daily and semester-long loaner bicycles FOR FREE at The Hub, an on-campus bike station. Visit The Hub and SRC webpages for more information.
Garry Gribble's Running Sports
All Garry Gribble's stores in Kansas City, Overland Park and Independence offer UMKC faculty and staff a 10% discount on all regular-priced merchandise, including shoes, clothing, accessories and food. To receive your 10% off, (1) reference the "UMKC group discount" when checking out and (2) show your employee ID.
JCC Fitness
UMKC faculty, staff, and their families are eligible for a discount with the Jewish Community Center of Greater Kansas City. Outside of this agreement, the current annual membership rate is $79/month for individuals and $111/month for families. But, from December 2014-September 2015, the UMKC rate is as follows:
0–9 new members: $92/month for families, $60/month for individuals
10–19 new members: $85/month for families, $56/month for individuals
20+ new members: $74/mo for families, $52/mo for individuals
(See agreement linked above for more details)
Mary Wissmann
University of Missouri employees receive 40% off their initial consultation with Mary Wissmann, a registered and licensed dietitian. Mary's state-of-the-art approach to weight loss and better health involves a mobile-based app and video conferencing sessions. You never have to leave the comfort of your home, you'll receive daily feedback on your food choices, and you will see results more quickly.You can learn more about her approach to health and wellness by following her on her blog, Facebook, Twitter, or Pinterest.
The Walking Company
All UMKC faculty and staff receive a 15% discount on stores nationwide
www.thewalkingcompany.com