A Message from President Tim Wolfe: Twitter Town Hall
Trouble viewing the video in your browser? Click here to view video message on YouTube.
Click here to download transcript as PDF.
Last week, University of Missouri System President Tim Wolfe held his first Twitter town hall and responded to six questions sent in via Twitter. In this six-minute video, he talks about his vision for the future of the University of Missouri System; his thoughts about the potential name change for UMKC; and what the system is doing to help keep higher education affordable.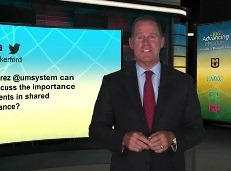 Although the first town hall is over, it's not too late to get engaged. Follow President Wolfe on Twitter at @UMPrez or email him at .(JavaScript must be enabled to view this email address). Also, keep up with systemwide news through our website or on our Facebook page.
Comments