About the President-Designate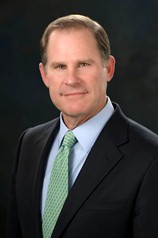 The University of Missouri Board of Curators on Dec. 13, 2011, selected Timothy M. Wolfe as the 23rd president of the University of Missouri System, effective Feb. 15, 2012.
An alumnus of the University of Missouri-Columbia with deep Missouri roots, Timothy M. Wolfe is an executive recognized for recruiting, building and leading successful teams by creating innovative strategies and clear execution plans across the enterprise. He has more than 30 years in information technology, infrastructure software, consulting and sales leadership.
Wolfe began his career in 1980 at IBM Corporation in Missouri, first as a sales representative in Jefferson City then as a manager in Kansas City. For the next 20 years, Wolfe established a reputation at IBM as a change agent who could take an under-performing or brand new unit and make it successful. He assumed progressively more responsible management positions, leading to vice president and worldwide leader of the Enterprise Resource Planning Unit and later as partnership executive for the University of Missouri and Cerner. Wolfe left IBM in 2000 as vice president and general manager of the global distribution sector. Throughout his IBM career he consistently achieved or exceeded his revenue objectives while improving customer satisfaction and his employee satisfaction.
From 2000 to 2003, Wolfe served as executive vice president of Covansys, a global consulting and technology services company headquartered in Michigan. There he led a global consulting team of more than 1,300 employees with $125 million in revenues. He was instrumental in developing the company's strategy and rebranding efforts, improving profitability through better resource allocations and improved financial tracking processes. There he defined and tracked key performance metrics and processes, and integrated a global development center in India.
In 2003, Wolfe joined Novell, a leading provider of infrastructure software. As President of the Americas and as a member of the senior management team for the organization, he was responsible for more than 3,000 employees and partner firms in the United States, Canada and Latin America. Wolfe was influential in developing the company's overall strategy, product development, mergers and acquisitions, marketing investments and community service initiatives.
While at Novell, Wolfe was instrumental in implementing a shared services model for several key operational units, including finance, human resources, legal, and operations and support. He was viewed as a popular mentor and credited with developing the company's global training programs. He consistently had one of the highest employee satisfaction ratings and was a core member of the executive team that successfully executed the sale of Novell, which resulted in a 40 percent improvement in shareholder value in the past year.
Wolfe was born in Iowa City, Iowa, and moved to Columbia, Mo., in the fourth grade. He attended Rock Bridge High School where he led the football team to the 1975 Class 3A state championship as quarterback.
Wolfe attended the University of Missouri-Columbia, earning a bachelor's degree in personnel management in 1980. During college, he completed an 18-month internship with Cramer Products in St. Louis. He was a member of the Beta Theta Pi fraternity and was on the business school's Dean's List. In 1995 he was selected to participate in Harvard Business School's Advanced Management Program to further expand his leadership skills.
Wolfe's passion for education was instilled in him at a young age by his parents, both of whom are life-long educators. His father, Joe, received a bachelor's degree in theater from Eastern Illinois University, and master's and doctorate degrees in speech and dramatic arts from the University of Iowa. From 1967 to 1997 he was a communications professor at the University of Missouri-Columbia, teaching film theory, film production, advanced television production, broadcast rules and regulations, as well as graduate seminars in broadcast history and mass culture.
Wolfe's mother, Judith, received a bachelor's degree in education, master's degrees in library and information science, and public administration, and a law degree from MU. She taught third grade in the Columbia Public School System from 1968 to 1972 and worked in Missouri's library system from 1974 to 1981. For the past 18 years, she has been a professor of law at the Massachusetts School of Law in Andover.
Wolfe and his wife, Molly, were married in Kansas City in 1992. They have twin teenagers, daughter Madison and son Tyler. Molly is a native of Kansas City and graduated from the University of Kansas in 1990. She enjoys tennis and book clubs, and was the president of the Mother of Twins Club and PTA, served as a Girl Scout Leader and is active in her twins' school and their family church.
Madison and Tyler also are involved in their church and took a mission trip to help victims of Hurricane Katrina. Both are involved in various sporting activities, including cross-country, track and baseball.
Wolfe serves on several academic and civic boards and organizations. He currently is a member of the University of Missouri-Columbia Trulaske College of Business Strategic Development Board and has participated in its Vaughan Executive-in-Residence Lecture Series. He was a member of the Archdiocese of Atlanta Financial Planning Board and the University of Arkansas Walton College of Business Computer Information Systems and Quantitative Analysis Board. He has been active in Habitat for Humanity, United Way, the Young Chief Executive Officers, and enjoyed serving as a fifth- and sixth-grade football coach at Rock Bridge Elementary School in Columbia.
In his free time, Wolfe enjoys running, golf, fly-fishing, reading and music.
Reviewed 2012-01-11.