See our progress on Priority Initiatives: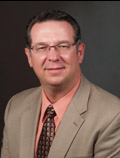 Paul Toler
Telephone: (573) 882-7254
E-mail: TolerP@missouri.edu
Paul Toler provides leadership for the Shared Services Initiative and the Operational Excellence Initiative on behalf of the University of Missouri System. Toler serves as the point of contact for the committee and consultants and is responsible for overall project coordination. His first activity was to perform a comprehensive benchmarking study of the university's human resources, finance, IT and procurement functions with the goal of identifying opportunities for adoption of shared services characteristics as part of these administrative functions.
Toler holds three degrees from the University of Missouri in Finance and Banking, Real Estate and a Masters in Business Administration. He is a graduate of the Missouri Bankers Association School of Banking and a Certified Government Financial Manager through the Association of Government Accountants. In addition to his leadership role in the shared services initiative, Toler is responsible for financial management and collections on behalf of the Columbia campus, directing activities related to student accounts receivable, student loan receivables, Jesse Auditorium, A.L. Gustin Golf Course, Accounting Services, and contracting and insurance activities of the Business Office. Recent innovations in many of these processes have resulted in the creation of new student employment programs, student emergency assistance funding, and funding in excess of $1 million in annual excellence scholarships.
Operational Excellence Initiative
Phase 2
Operational Excellence Initiative
November 2010 - Current
The second phase of the shared services initiative, now underway, is referred to as the "Operational Excellence Initiative" (OEI). Emphasis is on evaluating policies and procedures for opportunities to adopt shared services characteristics, foster accountability, identify sufficient resources for execution of high priority initiatives and measure outcomes.
Phase 1
Shared Services Initiative
April 2009 – November 2010
In 2009, under the leadership of President Gary D. Forsee, the University of Missouri System instituted a wide-ranging effort to curb expenses and avoid duplication of administrative tasks. Referred to as the "Shared Services Initiative," the project's continuing goal is to enable the university to achieve operating efficiencies and effectiveness across the enterprise, and to serve as a model for best practices.
Reviewed 2012-10-22.