Strategic Planning Readings

Navigation
DRAFT Strategy Statements
Resources
Contact
Henry C. Foley
Executive Vice President for Academic Affairs
309 University Hall
Columbia, MO 65211
(573) 882-6276
Email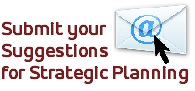 Collis, David J., and Michael G. Rukstad. "Can You Say What Your Strategy Is?" Harvard Business Review 86, no. 4 (April, 2008).
Denneen, Jeff, and Dretler, Tom. "The financially stable university" Bain & Company, Bain Brief (July 6, 2012).
Carey, Kevin. "The Higher Education Monopoly is Crumbling As We Speak" The New Republic (March 13, 2012).
Christensen, Clayton M., Anthony, Scott D., Berstell, Gerald, Nitterhouse, Denise "Finding the Right Job for Your Product" MIT Sloan Management Review, ISSN 1532-9194, Vol. 48, No. 3 (April 1, 2007).
Miller, Ben. "The Course of Innovation: Using Technology to Transform Higher Education" Education Sector (May 18, 2010).
Committee on Research Universities. "Research Universities and the Future of America: Ten Breakthrough Actions Vital to Our Nation's Prosperity and Security" The National Academies Press (2012).
Grummond, Phyllis T.H. "Trends in Higher Education" Society for College and University Planning, Vol. 7 n1 (July, 2010).
Auguste, Byron G., Cota, Adam, Jayaram, Kartik, Laboissiere, Martha C.A. "Winning by degrees: the strategies of highly productive higher-education institutions" McKinsey&Company (November, 2010).
Reviewed 2013-08-12.