Beyond Meat
Venture capital leader Kleiner Perkins and Twitter co-founders invest in MU startup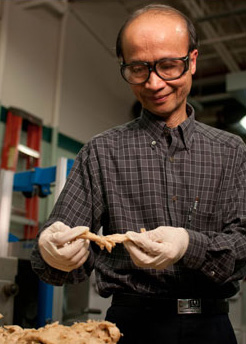 Successful commercialization requires cutting-edge innovations business savvy entrepreneurs and dedicated investors—all of which came together for Savage River Farm's Beyond Meat. In an effort to provide a high quality, low cost alternative to meat protein, Beyond Meat founder Ethan Brown searched for a substitute and after many years, he found what he was looking for in a University of Missouri technology.
Scientists Fu-hung Hsieh (pictured left) and Harold Huff from MU's College of Agriculture, Food and Natural Resources had been working on a technology that uses soy protein to mimic the fiber structure of chicken. Brown decided to partner with the university.
The company chose Columbia, in part, to be closer to the MU researchers who developed the licensed technology. The factory opened its doors in November 2012. This technology has attracted Kleiner Perkins and Twitter co-founders Biz Stone and Evan Williams to invest in Beyond Meat.
Currently, the factory employs 15 at the production facility. Beyond Meat is estimated to create 60 jobs by the end of 2017 for the Columbia area. Brown is continuing to work with researchers at MU to develop new meat substitute products in the future.
"Beyond Meat demonstrates how intellectual property generated in a lab can be commercialized. We were excited to have the opportunity to assist the company in the establishment of their first production facility!"

—Mike Brooks, President
Regional Economic Development, Inc.
For more information on this technology, click here.