Coulter Translational Partnership Program
MU researchers receive high honors with foundation funding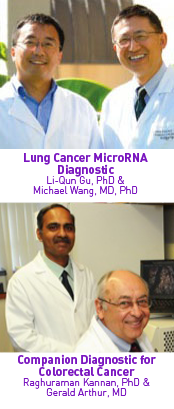 Through the University of Missouri's $5 million partnership with the Wallace H. Coulter Foundation, five MU projects are underway to develop biomedical technologies to meet the needs of patients. MU is one of 15 academic institutions in the country and the only university in Missouri to be selected to establish a Coulter Translational Partnership Program.
The projects selected in 2012 involve a total of 10 co-investigators from MU's School of Medicine and College of Engineering.
The five selected projects by the Coulter Translational Partnership Program each provide an opportunity to positively influence the field of medicine and patient care. The diversity within the five funded projects illustrates the breadth of translational biomedical research at MU.
"The Coulter Translational Partnership Program Bridge Fund provides researchers at MU a mechanism to advance technologies through the "valley of death," thus increasing the potential for the technology to reach the patients. It is an exciting opportunity to know that a program of this magnitude will continue to make an impact at MU and in patient care for at least the next four years."

—Rebecca Rone, Associate Director
MU Coulter Translational Partnership Program
For more information on the Coulter Program, click here.