EyeVerify
Keeping an eye on cell phone-based commercial transactions and identity management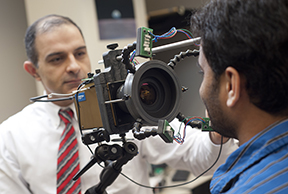 Eye-vein biometrics is a revolutionary new ocular biometric modality that was conceived and developed by Dr. Reza Derakhshani (pictured left), associate professor of computer science and electrical engineering at the University of Missouri—Kansas City's School of Computing and Engineering along with Dr. Arun Ross at West Virginia University.
With research funding from the University of Missouri System FastTrack funding program, the National Science Foundation, Center for Identification Technology Research, and The Fort Leonard Wood Trust, Derakhshani and Ross devised a novel, practical and uniquely capable biometric tool that is likely to change the nature of biometric approaches for commercial, industrial and homeland security applications.

Uniquely, eye-vein biometrics analyzes the only exposed and easily seen vasculature in our bodies: the veins in the white of the eye. Eye vasculature can easily be captured even with cell phone cameras. Thus, this vascular-class and highly accurate biometric tool has an instant global impact given the historically unprecedented availability of camera phones across the globe.

The vascular-based biometric technology, developed by Derakhshani and Ross, is currently being commercialized by EyeVerify™ (www.eyeverify.com), a Kansas City-based startup founded by local entrepreneur and EyeVerify™'s CEO Toby Rush, through an exclusive licensing agreement with UMKC. Derakhshani also serves as the company's chief scientist. Soon, it is likely that most cell phone-based financial and secure transactions will be "verified" using technology developed and led by a team of engineers and entrepreneurs from Kansas City.
For more information on EyeVerify, click here.