Life Science Business Incubator at Monsanto Place
Tenant success credits university collaboration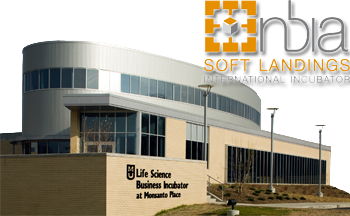 At full capacity, the MU Life Sciences Business Incubator at Monsanto Place has recruited and graduated companies while maintaining a close relationship with University of Missouri researchers and resources. This strong collaboration allowed tissue engineering company Modern Meadow to build a custom research and production facility, a result of responsive co-funding of capital improvements under the public-private partnership between MU and the Missouri Innovation Center.
The incubator's success has continued to lead to external funding. MU spin-off company Elemental Enzymes recently secured a $400,000 investment from Centennial Investors that allowed them to expand their lab and hire additional staff. Enterprise Investment Program awardee EternoGen also secured funding from Centennial Investors and Missouri Technology Corporation to advance its initial dermal filler product for the aesthetic surgery industry.

Companies have relocated to the incubator because of the opportunity to collaborate with leading MU researchers. Tensive Controls, originally from Research Triangle Park, secured a $1.8 million SBIR Phase II Grant from the National Institutes of Health and the National Cancer Institute. Immunophotonics, recruited from North Carolina, secured additional investment and achieved a key milestone in preparation for US clinical trials.
International recognition
Because of its state of business services for non-domestic firms and its demonstrated success at helping firms enter the U.S. market, the incubator was awarded the Soft Landings International Incubator designation by the National Business Incubation Association.
Monojo Ltd, the leading biotech company in Amman, Jordan, chose Columbia and the business incubator as its headquarters for extending its business into the U.S.
For more information on the Life Science Business Incubator at Monsanto Place, click here.