Missouri Research Park
Continued success leads to economic development recognition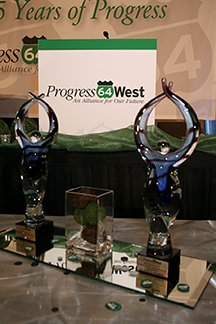 Missouri Research Park (MRP) is a 200-acre research and development park that has been functioning at near capacity for more than a decade. Because of this success, the Progress 64 West recognized MRP at their annual regional event for its accomplishment in fostering economic development and enhancing the quality of life along the I-64/I-40 high-tech corridor in St. Charles County.
To date, MRP allows for close to 2,000 jobs in the St. Charles area. Recently, the Economic Development Center of St. Charles County recognized one of MRP's tenants, Supplies Network, with its Business Spotlight Award. With their headquarters in MRP, Supplies Network was awarded for its employee growth and collaboration on workforce development issues with the Missouri Career Center.
Supplies Network opened its doors at MRP in 2002, and with four other supply locations around the country, its revenue goal is set to be $1 billion in the next 10 years, exceeding $500 million in 2011. Currently, they employ 230 people.
"The Missouri Research Park has been a catalyst and anchor to the high-tech corridor in St. Charles County since this impressive park opened in 1985. The entire business and civic community in St. Charles County is proud of the impact the Missouri Research Park has in our area and across the St. Louis region."

—Greg Prestemon, President and CEO
St. Charles Economic Development Center
For more information on the Missouri Research Park, click here.