University of Missouri System: Research & Economic Development
Annual Report 2012
Table of Contents
Investment
Overview



A goal of the Office of Research and Economic Development is to drive innovation into the marketplace by expanding system investment programs. To achieve this goal, the pipeline from innovation to commercialization must have a constant flow of new technologies. With seven funding programs in place, the UM System provides opportunities for researchers at each stage along the pipeline—from basic research to those ready to launch into the marketplace. These programs are designed to complement traditional federal and state funding sources.
In 2012, the UM System's funding programs awarded researchers more than $3.9 million. The results of these investments can be seen throughout this report. This year, our portfolio reached $6.7 million in licensing revenue and included 284 active license and option agreements, a 141% increase in five years. During this same five-year period, 2008-2012, these technologies led to 29 new companies. Last year our four campuses conducted $325.5 million in sponsored research alone.
In order to increase interdisciplinary and intercampus research collaboration, a new program just for this type of research was introduced. This $1 million fund was established with $125,000 contributions from each of the four campuses and a $500,000 match from the system. To accomodate increases in student entrepreneurship, a fund is being established to provide funding for UM student-led companies seeking development funding or business mentorship. Finally, FastTrack, a successful program from the past has been reinstated to provide gap-funding to further develop our most innovative technologies that are not quite ready for the marketplace.
The University of Missouri System's investments are crucial to the innovation process and fuel them through the pipeline.
INVESTMENT UPDATES
---
Funding Opportunities
Below is a list of funding programs currently available through the UM System. These programs are put in place to accelerate the process of moving our most innovative technologies through the research and commercialization pipeline--—ultimately making them commercially viable for further investment from outside investors.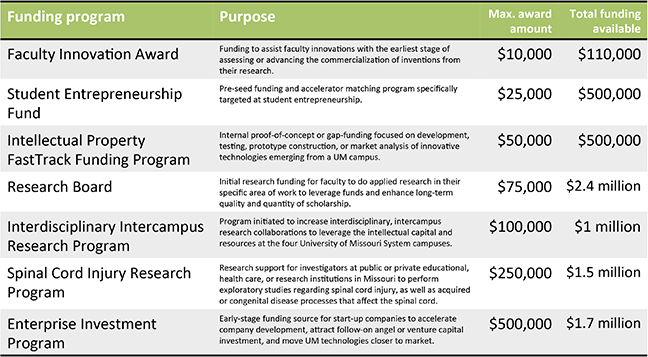 For more information on these Funding Opportunities, click here.
---
Research Board
Founded in 1992, the Research Board's mission is clear: to enhance scholarship in the university in the long-term by promoting the quality and quantity of research. Statistically, those funded from the Research Board during the life of their career at the university received more funding than those who had not obtained this initial funding.
Faculty members who have received Research Board funding in the past continually credit their success to the program.

"During my second year as assistant professor (after several failed attempts in the first year of my career to receive funding), I wrote my first grant application to the Research Board. It was rejected but the comments and reviews included several very helpful suggestions to improve the application. After making the necessary changes, the proposal was successfully funded in 1997. This was my largest grant up to that point and opened the door to my research in the modeling of steelmaking processes. Within two years of this first grant, I was able to write proposals that were funded with a number of other agencies including the Missouri Department of Natural Resources and the US Department of Energy. I have been able to build a strong research program in the area that was pioneered by my Research Board award. The steel research group (lab pictured right) at Missouri S&T did nearly $2 million in research last year. Although I can't attribute all of my success as a faculty member to my first Research Board award, it definitely opened up my research opportunities early in my career and has made a major difference in my success as an assistant professor."

— Kent Peaslee, F. Kenneth Iverson Steelmaking Chair,
Materials Science & Engineering Department, Missouri S&T
78 projects funded in 2012
$2,383,482 awarded in 2012
$56,000,000 awarded since 1992
For every dollar put into the Research Board, UM faculty receive 2.2x return on investment
For more information on the UM Research Board, click here.
---
Faculty Innovation Awards
The Faculty Innovation Awards Program is an initiative of the MU Institute of Clinical and Translational Science. The awards are co-sponsored by the UM System Office of Research and Economic Development and the Missouri Innovation Center.
The purpose of the awards is to assess and/or advance the commercial potential of faculty innovations. The modest award is a grant to the faculty innovator for a one-year residency in the MU Life Science Business Incubator at Monsanto Place, entitling the awardees to all of the amenities and the technology commercialization assistance of MIC.
Recipients of these awards are likely to continue down the research pathway under the UM System. This program provides them with resources that are necessary to continue their work at different levels.

Because of the appreciation among the MU faculty who have received these awards, the UM System plans to introduce a pilot program in 2013 that opens this opportunity up to all campuses with the help of campus matching funds.
8 total projects funded since 2010
$20,000 total awarded by UM System in FY12
---
Student Entrepreneurship Fund
Rolling out in 2013, the student entrepreneurship fund is a pre-seed funding and accelerator matching program specifically targeted to student entrepreneurship. Support will be for commercialization of high growth, non research-intensive technologies, characterized as having a short product development timeline (less than one year) and minimal regulatory restrictions. Such technologies typically require a small investment (<$100k) to develop a market-ready product.
Funding provided under this program will be matched by other/private funding sources.
---
Interdisciplinary Intercampus Research Program
In a cooperative effort, the system and campuses designed the newest funding program to enhance interdisciplinary and intercampus collaboration among the four campuses. This program requires that each proposal include a researcher from at least two different UM campuses and across two different disciplines in order to be considered for funding.
This program, among others that come out of the system, was put in place to enhance technologies with strong commercial potential and make them more attractive to external funders or potential licensees. Each researcher can request up to $25,000, making the total reward maximum $100,000 depending on the number of collaborators.
The success of this mini grant program will determine whether this program will be supported annually.
For more information on the Interdisciplinary Intercampus Research Program, click here.
---
Fast Track
This program focuses on development, testing, prototype construction or market analysis of innovative technologies originating from one of the four campuses. The FastTrack program has contributed significantly to the development and commercialization of some exciting technologies in such areas as cancer detection, blood glucose monitoring, environmental protection, and vector signal measurement.
Based on the program's success, the UM System has reinstated this program with $500,000 because of the effectiveness and the economic benefits it has provided. FastTrack II launched in January 2013.

"FastTrack funding allowed us to perform an independent market survey with both Electronic Health Record (EHR) vendors and large health systems to help us determine market demand and product pricing. We also leveraged developers to build out linkages to some of the best treatment calculators and protocols. This funding allowed us to quantify some of the benefits of our system, which include time savings for providers and medical error reductions."

— Karl Kochendorfer, MD, FAAFP
CEO/Founder, MedSocket

To date, this program has resulted in
36 publications and presentations
2 invention disclosures
4 patent applications
7 license agreements
1 option agreement
5 startup companies
1 new incubator tenant
$900,000 in venture funding
$287,000 in grant funding
For more information on the FastTrack Funding Program, click here.
---
Spinal Cord Injury Research Program
Effective July 2012, the Missouri General Assembly passed an increased funding authorization for the Spinal Cord Injuries and Congenital or Acquired Disease Processes Research Program from $625,000 to $1.5 million.
This additional funding will allow awards for more proposals from research institutions around the state, enhancing the attractiveness and competitiveness of the program. It also will make larger-scale studies more feasible by allowing researchers to receive up to $250,000 per year for one to two years. Funding for the program comes from the state's Spinal Cord Injury Fund, supported primarily by fines for intoxication-related offenses in Missouri.
Also in July, Andrew McClellan was appointed director of the program. As a professor of biological sciences at the University of Missouri, a long-term goal of his research program is to understand how neural networks in the nervous system produce locomotion behavior. His laboratory has identified some of the key cellular and molecular mechanisms that contribute to successful neural regeneration and behavioral recovery following spinal cord injury.

"Having been engaged in spinal cord injury research since 1985, I am excited about becoming the new director of this program. I hope to increase the number of laboratories involved in spinal cord injury research in the state of Missouri, and as a result, this will contribute to finding cures for spinal cord injuries, promote better health care for SCI patients in our state and increase the visibility of our program nationally."

—Andrew McClellan, Director
UM Spinal Cord Injury Research Program
5 total projects funded in FY12
$943,492 awarded in FY12
For more information on the Spinal Cord Injury Research Program, click here.
---
Enterprise Investment Program
In 2012, The Enterprise Investment Program (EIP) awarded an MU startup company—EternoGen, LLC—up to $200,000 in its first round of funding. From this EIP funding, EternoGen has been able at attract an additional $300,000 from the Missouri Technology Corporation (MTC) and Centennial Investors to develop their technology and grow their business.
EternoGen is a medical biotech company that incorporates nanotechnology and protein engineering to make materials that stimulate tissue regeneration and create biological implants that last longer than the current products on the market.
As EternoGen progresses in its development timeline it continues to secure further investments such as $375,000 additional matching funds from MTC towards its 2nd round of investment. This promising technology and its immediate need in the aesthetic and reconstructive soft-tissue filler market has attracted a world-class management team and seasoned board of directors. Recently, EternoGen was selected to present its innovative nano-particle-collagen technology for regenerative medicine at the New England Venture Summit. EternoGen was among an elite 50 companies selected from around the world to present at this premier event. EternoGen's next milestone, post closing its second investment, will be manufacturing pilot-scale batches and launching into formalized preclinical trials.
The second round of EIP funding is coming to a close, with two finalists and awards expected to total up to $900,000. The recipeients of this funding will be announced in early 2013.

"The investment provided by EIP has provided a business prowess that drives the innovation of EternoGen's R&D. Not only did EIP funding enable our first investment of three parties, it continues to provide technical validation for further funding. I truly believe these factors make EIP funds match the definition of smart money."

—Luis Jiminez, CEO
EternoGen
$600,000 awarded in first round
2 awards in FY12
For more information on the Enterprise Investment Program, click here.
---
Innovation
Campus Research and Technology Strengths
Below is a list of strengths determined by each campus and its programs.




Translational, Personal &
Comparative Medicine

Plant & Animal
Science

Nuclear Science

Journalism

Geospatial Intelligence &
Sensing

Energy & Nanoscience

Electrical & Cyber
Systems

Energy

Environment

Civil Infrastructure

Manufacturing

Materials





Dental & Musculoskeletal
Tissues

Translational/Clinical
Outcome Research

Vision Research Center

Neutron Detection


Biometrics &
Cyberinfrastructure

Blast Resistant
Structural Design

Fungal Genetics &
Molecular Biology

Drug Design & Delivery






Life Sciences,
Medicinal Chemistry,
Alternative Energy,
Medical Devices

Optometric Devices &
Treatments

Math & Computer
Sciences

Mental & Behavioral
Health, Neuroscience,
Social Work

Criminology & Criminal
Justice

Transportation,
Logistics, Management
Science





---
Beyond Meat
Venture capital leader Kleiner Perkins and Twitter co-founders invest in MU startup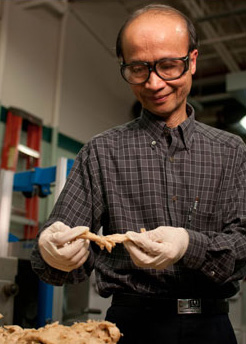 Successful commercialization requires cutting-edge innovations business savvy entrepreneurs and dedicated investors—all of which came together for Savage River Farm's Beyond Meat. In an effort to provide a high quality, low cost alternative to meat protein, Beyond Meat founder Ethan Brown searched for a substitute and after many years, he found what he was looking for in a University of Missouri technology.
Scientists Fu-hung Hsieh (pictured left) and Harold Huff from MU's College of Agriculture, Food and Natural Resources had been working on a technology that uses soy protein to mimic the fiber structure of chicken. Brown decided to partner with the university.
The company chose Columbia, in part, to be closer to the MU researchers who developed the licensed technology. The factory opened its doors in November 2012. This technology has attracted Kleiner Perkins and Twitter co-founders Biz Stone and Evan Williams to invest in Beyond Meat.
Currently, the factory employs 15 at the production facility. Beyond Meat is estimated to create 60 jobs by the end of 2017 for the Columbia area. Brown is continuing to work with researchers at MU to develop new meat substitute products in the future.
"Beyond Meat demonstrates how intellectual property generated in a lab can be commercialized. We were excited to have the opportunity to assist the company in the establishment of their first production facility!"

—Mike Brooks, President
Regional Economic Development, Inc.
For more information on this technology, click here.
---
Coulter Translational Partnership Program
MU researchers receive high honors with foundation funding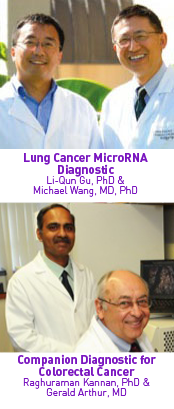 Through the University of Missouri's $5 million partnership with the Wallace H. Coulter Foundation, five MU projects are underway to develop biomedical technologies to meet the needs of patients. MU is one of 15 academic institutions in the country and the only university in Missouri to be selected to establish a Coulter Translational Partnership Program.
The projects selected in 2012 involve a total of 10 co-investigators from MU's School of Medicine and College of Engineering.
The five selected projects by the Coulter Translational Partnership Program each provide an opportunity to positively influence the field of medicine and patient care. The diversity within the five funded projects illustrates the breadth of translational biomedical research at MU.
"The Coulter Translational Partnership Program Bridge Fund provides researchers at MU a mechanism to advance technologies through the "valley of death," thus increasing the potential for the technology to reach the patients. It is an exciting opportunity to know that a program of this magnitude will continue to make an impact at MU and in patient care for at least the next four years."

—Rebecca Rone, Associate Director
MU Coulter Translational Partnership Program
For more information on the Coulter Program, click here.

---
MURR
Campus resource remains national attraction
The University of Missouri Research Reactor, MURR®, is a national resource and leader in the nuclear sciences field. For decades, MURR scientists and staff have been fighting cancer through research and collaboration with private industry. As a result, Quadramet® and TheraSpheres® are available to US cancer patients every week. In the past year, demand for TheraSpheres® reached new highs, and MURR is helping meet that need.
Besides grant dollars that flow directly to MURR, the center's resources are at the core of more than $12 million in grant funding awarded to collaborating MU faculty. From preparing new scientists for materials research discoveries, to improving crop yields, to understanding development and interaction of ancient populations, to translating the treatment and cure of cancers in animal patients into effective therapy for human patients, research at MURR spans dozens of disciplines.
For more information on MURR, click here.
---
Small Modular Reactor (SMR) Project
Master research agreement and strategic collaboration

Westinghouse Electric Company announced a multiyear master research and collaboration agreement with the University of Missouri and Missouri University of Science and Technology. The agreement will support the development of multiple cutting-edge research projects and the institutions that will benefit the Westinghouse Small Modular Reactor (SMR) Project and the nuclear energy industry as a whole.
An initial project already underway with MU is a strategic collaboration to perform first-of-a-kind analysis helping to support licensing activities to establish the emergency planning zone (EPZ) boundary for SMRs.
Ameren Missouri is the operating license partner in the Westinghouse application to secure Department of Energy SMR investment funds. the U.S. Department of Energy announced it plans to issue a new funding opportunity to support continued design, development and certification of innovative SMR technologies. The DOE program was developed to support the United States' efforts to lead the world in commercializing American-made SMRs. Westinghouse and Ameren Missouri plan to continue to pursue the funding opportunities and are reviewing the next steps in the application process.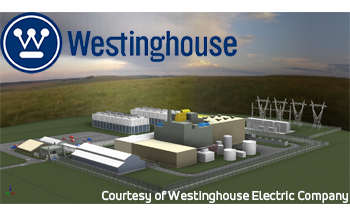 "This collaboration advances our partnership with the University of Missouri System as well as our business relationship with Ameren Missouri. It is our hope that this alliance will underscore our efforts to support Missouri in becoming a hub for the design, development, manufacturing, construction and deployment of American-made SMRs across this nation and around the world."

—John Goosen, Vice President
Westinghouse Innovation and SMR Development
---
FREEDM Systems Center
Missouri S&T expertise leads to advanced developments for consortium

Missouri University of Science and Technology plays a key role in the Center with their development of the large-scale system simulation testbed, which integrates a variety of simulation models that include wind turbines, photovoltaic systems, residential loads and numerous power distribution system components, including new "smart" solid-state-transformers, "smart" fault-interruption devices, and advanced energy management controls. The large scale system simulation is one of three showcase testbeds developed by the Center, and S&T faculty is taking the lead on this aspect. This testbed, led by Dr. Mariesa Crow, the Fred W. Finley Distinguished Professor of Electrical Engineering at S&T, will provide the primary proof of concept of the envisioned smart grid operation scaled to realistic levels. Drs. Jonathan Kimball and Mehdi Ferdowsi are also part of the testbed team.
The Future Renewable Electric Energy Delivery and Management Center involves seven U.S. and European universities, headed by North Carolina State University, working together to transform the nation's power grid into a distributed system - an Internet for energy - that will speed renewable electric-energy technologies into homes and businesses across the US. Formed in 2008 by a National Science Foundation grant, the goal of the FREEDM Systems Center is to revolutionize the nation's power grid and speed renewable energy technologies into every home and business. The Center is also supported by a consortium of more than 45 industrial partners. The backbone of the Center's work is developing technology that actively controls, distributes and stores electric power.
The solid-state transformer acts as an intelligent router that provides energy and power exchange via a distributed grid intelligence system (DGI). The DGI effort, essentially the 'brains' of the operation—the command and control center, is led by S&T computer science professor Dr. Bruce McMillin. The role of S&T is crucial to ensure that the future power grid is not only smart, but safe and secure. Working with McMillin are faculty and graduate students from Florida State University and University of Auckland, New Zealand.
"The Energy Internet is closer to reality because of the progress we've made. Our research, industry partnerships and education programs are getting attention from all over the world, and this is just the beginning. There's much more to come."

—Dr. Alex Huant, Director, FREEDM Center and Professor, Electrical and Computer Engineering
North Carolina State University
For more information on the FREEDM Systems Center, click here.
---
Bone and Tissue Consortium
Campus collaboration leads to clinical trials and commercialization


With funding from the U.S. Army, what started as the University of Missouri—Kansas City and Missouri University of Science and Technology's Consortium on Bone and Tissue Repair and Regeneration has expanded to more than 35 faculty and graduate students, including faculty in the UMKC's School of Dentistry, Bone Biology Research Program and the Center of Excellence in Mineralized Tissues, as well as Biomedical Engineering at Saint Louis University. Research is being conducted on bone biology, designing bioactive glass scaffolds for repairing broken and diseased bone, developing biodegradable sensors for in-vivo use, and utilizing a new family of bioactive borate glasses to heal chronic wounds in animals and humans.

This collaboration played a key role in the establishment of The Center for Bone and Tissue Repair and Regeneration at Missouri S&T, and has produced more than 85 published technical papers on bioactive materials/glass in the last five years and led to UM being granted five U.S. patents (four pending), several of which have been licensed to companies that are now commercializing this UM technology.

One commercial product for veterinary use, Rediheal™, is already being used to heal traumatic wounds in animals and a second product, Deramfuse™ is being developed for human use. Other important participants in this collaboration are the Phelps County Regional Medical Center (PCRMC) and MO-SCI Corp in Rolla, Mo. MO-SCI Corp, a manufacturer of glasses for the health care industry, has provided several bioactive glasses for research purposes, including the borate glass fiber that was used by the PCRMC in a recently completed pre-clinical trial to treat patients with chronic, non-healing wounds. The success of this "cotton candy-like" fiber in healing several types of wounds has received international attention.
---
EyeVerify
Keeping an eye on cell phone-based commercial transactions and identity management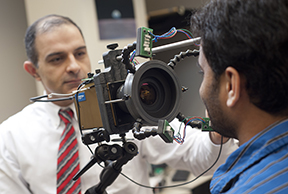 Eye-vein biometrics is a revolutionary new ocular biometric modality that was conceived and developed by Dr. Reza Derakhshani (pictured left), associate professor of computer science and electrical engineering at the University of Missouri—Kansas City's School of Computing and Engineering along with Dr. Arun Ross at West Virginia University.
With research funding from the University of Missouri System FastTrack funding program, the National Science Foundation, Center for Identification Technology Research, and The Fort Leonard Wood Trust, Derakhshani and Ross devised a novel, practical and uniquely capable biometric tool that is likely to change the nature of biometric approaches for commercial, industrial and homeland security applications.

Uniquely, eye-vein biometrics analyzes the only exposed and easily seen vasculature in our bodies: the veins in the white of the eye. Eye vasculature can easily be captured even with cell phone cameras. Thus, this vascular-class and highly accurate biometric tool has an instant global impact given the historically unprecedented availability of camera phones across the globe.

The vascular-based biometric technology, developed by Derakhshani and Ross, is currently being commercialized by EyeVerify™ (www.eyeverify.com), a Kansas City-based startup founded by local entrepreneur and EyeVerify™'s CEO Toby Rush, through an exclusive licensing agreement with UMKC. Derakhshani also serves as the company's chief scientist. Soon, it is likely that most cell phone-based financial and secure transactions will be "verified" using technology developed and led by a team of engineers and entrepreneurs from Kansas City.
For more information on EyeVerify, click here.
---
UMKC Innovation Center
UMKC Innovation center is using network power to fuel startups

From whiteboard to boardroom, the University of Missouri—Kansas City Innovation Center partners with the university and the community to spark entrepreneurial efforts within the region and across the country.
The center, led by Maria Meyers, has built a network of entrepreneurs, entrepreneurial support organizations and academic researchers all with one goal: generate new startups in the Kansas City region.
"What the UMKC Innovation Center is doing to move technologies out of R&D and into the market is critical to our global competitive future," said Leo Morton, UMKC chancellor.

The center's most recent collaboration, The Digital Sandbox, pulls Kansas City's leading corporate citizens into the mix. This new proof-of-concept center brings Kansas City's corporate giants Sprint, Hallmark, Cerner, UMB, VML together with academia, entrepreneurs, business development organizations and economic developers to "play in the Sandbox" to accelerate the commercialization of new ideas and promote business and job growth in the region.

To fund the project, Meyers and the UMKC Innovation Center led a consortium to win the i6 Challenge, a $1 million grant through the U.S. Department of Commerce Economic Development Administration. In addition the project has garnered $500,000 from the Missouri Technology Corporation and more than $600,000 in in-kind support from local corporations. The goal of the Sandbox is to create new companies that raise significant funding or reach $1 million in revenues within two years.
"Kansas City has needed proof of concept support to move ideas from research labs to the market. The Sandbox provides unprecedented access to industry expertise and fills two gaps in the entrepreneurial ecosystem: connecting large industry to the entrepreneurial and university research networks and providing early-stage proof-of-concept support. Maria and the entire Innovation Center Team have become an invaluable asset to UMKC and an integral part of Kansas City's effort to become America's most entrepreneurial city. We expect big things from the Innovation Center and they always find a way to deliver!"

—Lawrence Dreyfus, Vice Chancellor for Research and Economic Development
University of Missouri—Kansas City
For more information on the UMKC Innovation Center, click here.
---
Medicinal Chemistry Group
Industry and academic units collaborate for advanced results


As federal research dollarrs become more limited, the university must find new ways to work with industry and grow ressarch through industrial funding. The work of the Medicinal Chemistry Group is a shining example of what can be accomplished when we seek out new partnerships and think beyond the traditional funding models.
Since its move to the Innovative Technology Enterprises at the University of Missouri—St. Louis, the MCG has contracted with nine clients and its revenue is up 35 percent to the prior year with totals projected at $250,000.
Working with St. Louis University and One World Health (Gates Foundation) in the area of orphan and neglected diseases, the MCG is currently targeting the development of a treatment for childhood diarrhea, as well as the development of new anti-filarial agents to combat what is usually an infectious parasitic disease.

In addition to its contributions to drug discovery for orphan diseases, the MCG supports fledging startup companies in the region that do not have the necessary expertise and scientific capacity in house. These activities, often organized as fee-for-service contracts, provide low-cost solutions to scientific problems in a timely fashion.

The MCG is performing syntheses of new compounds for Confluence Discovery Technologies, Inc., a life sciences company that develops innovative treatments for animal and human diseases. The drugs are designed to target the large unmet medical needs associated with cancer and chronic inflammatory and autoimmune disease in both markets.

The group also provides syntheses work for BioMed Valley Discoveries, Inc., a research group funded by the Stowers Institute for Medical Research to address medical projects that are 'too early, too challenging and too conventional for traditional biotech or pharmaceutical companies.' These medicinal areas of concentration include cancer and inflammatory and infectious diseases.

For Midway Animal Health Inc., the MCG is performing preparative scale reverse phase purification to provide sufficient chemical quantities for a critical animal study that could result in a new veterinary medicine.
For more information on UMSL's Medicinal Chemistry Group, click here.
---
UMSL Class of Inventors
UMSL inducts inaugural class of inventors


More than 30 University of Missouri–St. Louis faculty, staff and graduate students were inducted into the new campus chapter of the National Academy of Inventors. The NAI was established in 2010 by the University of South Florida to honor academic invention, recognize and encourage inventors and enhance the visibility of university technology and innovation. The Academy currently has 46 charter member institutions and more than 2,000 individual academic inventor members.
Among the inventor inductees is Zhi Xu, associate professor of chemistry at UMSL, who developed a non-invasive glucose monitor, which has been licensed to St. Louis Medical Devices, Inc., a Missouri startup to commercialize the device. He's also on a patent for developing a light scattering detector along with David Larsen, professor emeritus of chemistry. Products using this technology are on the market. The duo along with Wayne Garver, a retired lecturer in physics and astronomy at UMSL, all helped invent several technologies related to ultrasensitive spectrophotometry.
Also garnering recognition for their invention are UMSL associate professor Carl Bassi, senior research engineering technician Michael Howe and Wayne Garver, who collaborated to invent the Quantitative Three Dot Test, a handheld device to better measure visual suppression. This technology has been licensed to a Q3D Visual Diagnostics, a Missouri startup company.
"We are excited to launch a chapter of the National Academy of Inventors on the UMSL campus. This offers the university a great opportunity to recognize and encourage innovation among faculty, staff and students. I'm proud of
UMSL's inventors and appreciate this chance to recognize their innovative work."
—Tamara Wilgers, Director of Technology, Commercialization, and Economic Development
University of Missouri—St. Louis
For more information on the UMSL Chapter of NAI, click here.
---
Overview



Innovation is the key to the university research and economic development operations. Technologies that come from the four campuses of the University of Missouri System are fundamental to the investment success and infrastructure needs of the university.
The four campuses of the UM System perform 95 percent of the research conducted in the state by public four-year institutions and with $6.8 million in licensing income, UM campuses are among the top 30 percent of universities in licensing revenue generated from research-developed intellectual property.
Moving forward our goal is to expand university research collaborations with industry and identify the best partnerships to exploit our research strengths and increase the output of innovations that will compete in tomorrow's marketplace.
INNOVATION UPDATES






---
Infrastructure
Overview



Economic development is listed at the core of the University of Missouri System's mission. The UM System's statewide network of 10 research parks and incubators provides a foundation for the investment and innovation across the four campuses.
The system and campuses have aligned efforts in order to improve their industry competitiveness and become the driving force behind economic development for the state of Missouri.
These objectives include:
• to expand activities directed at the creation of startup companies
• to increase the participation of startup companies in our incubator network and existing companies of our research parks and their engagement with the university, and
• to create, participate enhance and maintain regional economic development activities through material partnerships with other research institutions, business enterprises, state and local government and economic development agencies.
INFRASTRUCTURE UPDATES
---
Missouri Research Park
Continued success leads to economic development recognition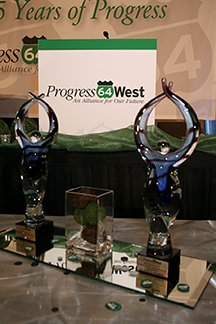 Missouri Research Park (MRP) is a 200-acre research and development park that has been functioning at near capacity for more than a decade. Because of this success, the Progress 64 West recognized MRP at their annual regional event for its accomplishment in fostering economic development and enhancing the quality of life along the I-64/I-40 high-tech corridor in St. Charles County.
To date, MRP allows for close to 2,000 jobs in the St. Charles area. Recently, the Economic Development Center of St. Charles County recognized one of MRP's tenants, Supplies Network, with its Business Spotlight Award. With their headquarters in MRP, Supplies Network was awarded for its employee growth and collaboration on workforce development issues with the Missouri Career Center.
Supplies Network opened its doors at MRP in 2002, and with four other supply locations around the country, its revenue goal is set to be $1 billion in the next 10 years, exceeding $500 million in 2011. Currently, they employ 230 people.
"The Missouri Research Park has been a catalyst and anchor to the high-tech corridor in St. Charles County since this impressive park opened in 1985. The entire business and civic community in St. Charles County is proud of the impact the Missouri Research Park has in our area and across the St. Louis region."

—Greg Prestemon, President and CEO
St. Charles Economic Development Center
For more information on the Missouri Research Park, click here.
---
Research Parks and Incubators Network
Below is the latest occupancy details about each of the UM System parks and incubators.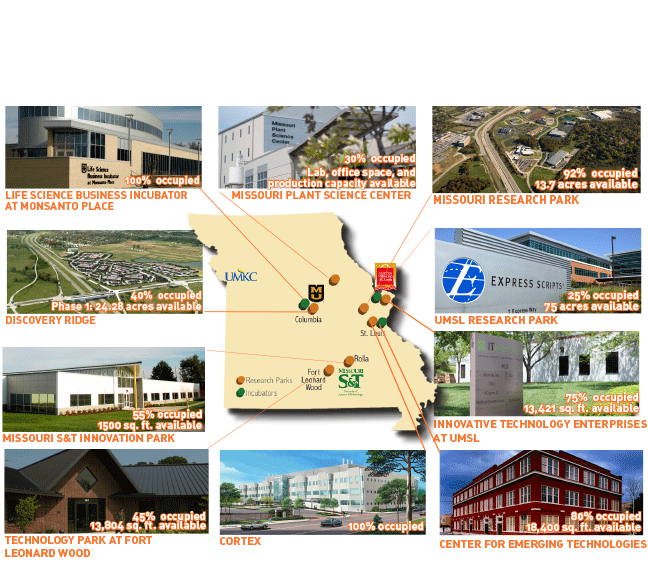 For more information on UM's Research Parks and Incubators, click here.
---
Life Science Business Incubator at Monsanto Place
Tenant success credits university collaboration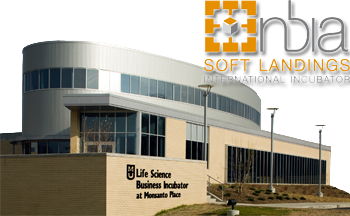 At full capacity, the MU Life Sciences Business Incubator at Monsanto Place has recruited and graduated companies while maintaining a close relationship with University of Missouri researchers and resources. This strong collaboration allowed tissue engineering company Modern Meadow to build a custom research and production facility, a result of responsive co-funding of capital improvements under the public-private partnership between MU and the Missouri Innovation Center.
The incubator's success has continued to lead to external funding. MU spin-off company Elemental Enzymes recently secured a $400,000 investment from Centennial Investors that allowed them to expand their lab and hire additional staff. Enterprise Investment Program awardee EternoGen also secured funding from Centennial Investors and Missouri Technology Corporation to advance its initial dermal filler product for the aesthetic surgery industry.

Companies have relocated to the incubator because of the opportunity to collaborate with leading MU researchers. Tensive Controls, originally from Research Triangle Park, secured a $1.8 million SBIR Phase II Grant from the National Institutes of Health and the National Cancer Institute. Immunophotonics, recruited from North Carolina, secured additional investment and achieved a key milestone in preparation for US clinical trials.
International recognition
Because of its state of business services for non-domestic firms and its demonstrated success at helping firms enter the U.S. market, the incubator was awarded the Soft Landings International Incubator designation by the National Business Incubation Association.
Monojo Ltd, the leading biotech company in Amman, Jordan, chose Columbia and the business incubator as its headquarters for extending its business into the U.S.
For more information on the Life Science Business Incubator at Monsanto Place, click here.
---
Park and Incubator Highlights
Missouri Plant Science Center
Mexico
LunaRich®, a soy ingredient used in Reliv International's health supplement powders, was the first product manufactured and commercialized at the MPSC by managing tenant, Soy Labs, LLC. After a successful first year in operation, supporters of the center are working to recruit additional companies to do further research on lunasin and other plant-based nutritional compounds. The center is also designed to promote open innovation between Soy Labs, Reliv and other like-minded companies.
Website
Discovery Ridge
Columbia
Home of two research companies, ABC Labs, a pharmaceutical research facility and IDEXX, an animal diagnostics company, Discovery Ridge employs a total of 457 people. ABC Labs created 88 new jobs for the Boone County area in 2012.
Website
University of Missouri System Technology Park at Fort Leonard Wood
Fort Leonard Wood
The Technology Park at Fort Leonard Wood, conveniently located on the Army post, is actively recruiting new tenants to fill its current vacancies. The park has renewed several contracts in 2012 and added a new tenant, Hidden Water, Inc.
Website
Missouri S&T Innovation Park
Rolla
Innovation Park, on the campus of Missouri University of Science and Technology, has gained four new tenants this year, including The Ravens Group, Garmin International, Inc., IST Rolla, Inc., and the Office of Technology Transfer and Economic Development.
Website
UMSL Research Park
St. Louis
UMSL Research Park, located off Interstate 70 on the university's north campus, is home to the no. 1 pharmacy firm in the nation, Express Scripts, Inc. ESI is the largest Fortune 500 company with corporate headquarters on a university campus.


Center for Emerging Technologies
St. Louis
The Center for Emerging Technologies (CET) opened in 1998. In its 14-year history, 47 companies that have collectively attracted more than $765 million in funding have been tenants at CET. The center currently has 25 tenants and is now a subsidiary of CORTEX, a unit in which UMSL has equity investment.
Website
Innovative Technology Enterprises at UMSL
St. Louis
Innovative Technology Enterprises (ITE) at UMSL welcomed two new tenants in 2012: Retectix and Onshore Outsourcing. With these additions, there are eight companies in the incubator.
Website
Cortex
St. Louis
CORTEX plans to begin Phase II of its master plan, which will reside on a 200-acre industrial area between two renovated buildings and will add 1,400 employees to the midtown St. Louis area.
Website
For more information on the UM System's network of research parks and incubators, click here.
---
Data
External Funding
While the availability of federal dollars is shringing, in 2012, the University of Missouri System received research awards from many federal funding agencies. Below are the top 10 direct federal funding agencies in order of highest expenditures and total number of contracts systemwide.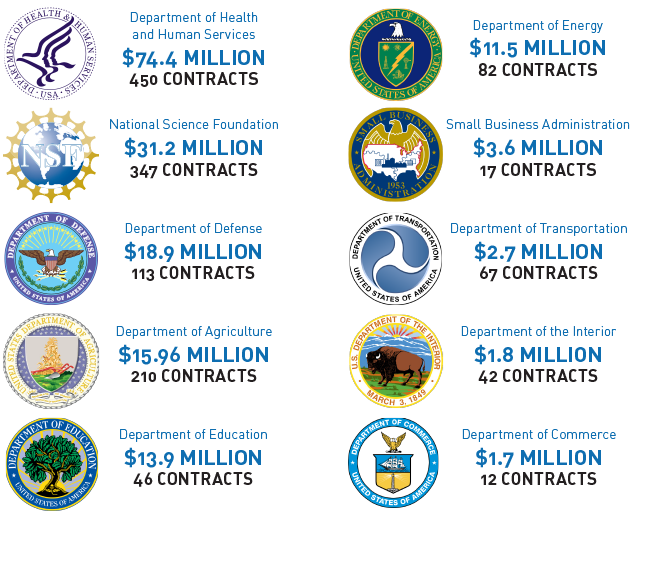 ---
Research and Commercialization Data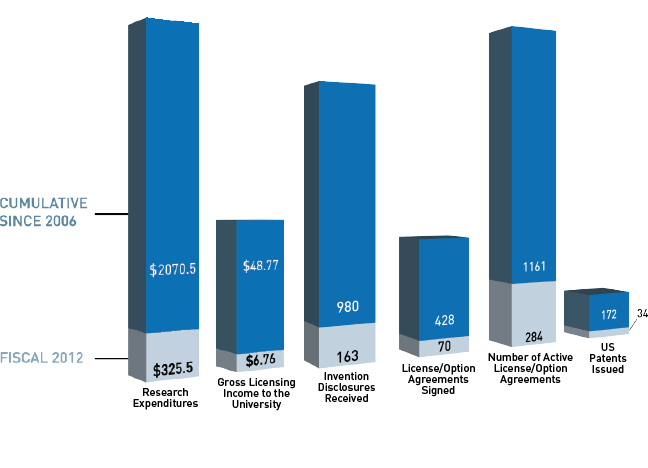 Research Expenditures (in millions)
Research expenditures are the actual monies spent on research activities that fiscal year, though the funds may have been awarded in a prior year. Since research awards can fluctuate from year to year, a more stable indicator of research activity is expenditures.
Gross Licensing Income to the University (in millions)
Our ability to generate revenue from the intellectual property developed at the university benefits both the inventor and the university. Licensing income received by the university supports our research, development and other scholarly activities.
Invention Disclosures Received
The number of invention disclosures received each year reflects new commercialization opportunities. It's also an indicator of the university's research output and our ability to effectively mine the research being conducted.
License/Option Agreements Signed
The university's inventions would never get to market without a strong commercial partner. The ability to identify and attract a commercial partner and negotiate mutually satisfactory option/license terms is crucial to our success.
Number of Active License/Option Agreements
To grow a successful technology transfer program, the university must have a number of inventions in all stages of the commercialization pipeline. The number of active license/option agreements is an indicator of our current and potential future revenue streams.
US Patents Issued
An issued patent is recognition of an invention's novelty and is an important component for successful commercialization. However, as a metric, the goal isn't necessarily the quantity of patents but rather the quality of the patents from a commercialization standpoint. The number of issued patents reflects those innovations that the university believes have the best opportunity to reach the marketplace.
---
Advancing Missouri's Technologies
Since its establishment in 2005, the UM System Office of Research and Economic Development has been dedicated to growing Missouri's economy through new business creation. Below are some of the spin-off ventures working to commercialize the innovations of University of Missouri faculty from the four-campus UM system.
FY12
Effexus Pharmaceuticals
EternoGen
EyeVerify
Modern Meadow
NanoElectromagnetics
Oncolysis
Pep Pro Analytics
Pro-Perma Engineered Coatings
Q3D Visual Diagnostics
Spogen Biotech
Viator Technologies
YM Diagnostics
FY11
Adroit Motion
Dietary Innovations
HLB Horizons
Polarbac
Rediglass Technologies
Sage AG Sustainable Energy Biofuels
Savage River Farms
Shasun-NBI
St. Louis Medical Devices
Terra 4D Systems
FY10
Advanced Spectroscopic Technologies
Asian Equity Research Institute
CircLabs
Emergence Bioscreening
Missouri Plant Science Center
Nanos
Nanova
NEMS & MEMS WORKS
Universal Research Solutions
FY09
ALKYMOS
Exocytronics
Media Publishing Platform
Organovo
Pro-Perma Engineered Coatings
FY08
Earth Perspectives
Equinosis
Iconic Health
ThermAvant Technologies
FY07
Calare LLC
Nanoparticle Biochem
Verenta Pharmaceuticals
FY06
Essential Isotopes
---
Startups
The university strives to build an entrepreneurial climate where business-minded faculty and students have the resources to establlish and grow companies based on their innovations. Start-up companies represent future jobs and financial growth within the community, state and the nation.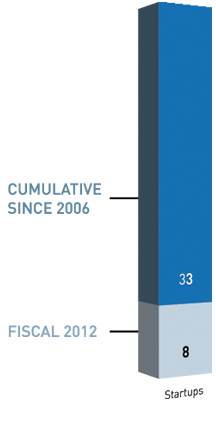 Viator Technologies, Inc. has discovered a system to
detect circulating melanoma tumor cells.


Spogen Biotech, Inc. (newly named Elemental Enzymes) has created a unique enzyme production to address personal and industrial contamination problems.




Effexus Pharmaceuticals, LLC. has invented a product to combat Barrett's esophagus-a condition that can lead to esophageal cancer.



Eternogen, LLC. has developed a nanotechnology for dermal fillers and biomedical applications.
NanoElectromagnetics, LLC. customizes the development
and production of high voltage capacitators and compact
antennas incorporating high dielectric constant composite materials.




HLB Horizons, LLC. manufactures polyhedral boranes.


EyeVerify, LLC. enables users to authorize transactions and access
information in a manner that is secure, scalable and convenient.

Q3D Visual Diagnostics, LLC. has created a non-invasive opthamology
device for the full spectral digital measurement of amblyopia (lazy eye).
---
Overview

---