Startups
The university strives to build an entrepreneurial climate where business-minded faculty and students have the resources to establlish and grow companies based on their innovations. Start-up companies represent future jobs and financial growth within the community, state and the nation.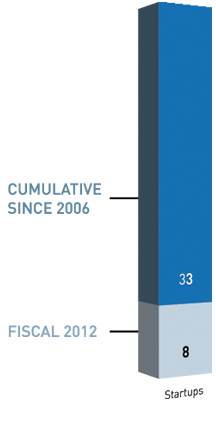 Viator Technologies, Inc. has discovered a system to
detect circulating melanoma tumor cells.


Spogen Biotech, Inc. (newly named Elemental Enzymes) has created a unique enzyme production to address personal and industrial contamination problems.




Effexus Pharmaceuticals, LLC. has invented a product to combat Barrett's esophagus-a condition that can lead to esophageal cancer.



Eternogen, LLC. has developed a nanotechnology for dermal fillers and biomedical applications.
NanoElectromagnetics, LLC. customizes the development
and production of high voltage capacitators and compact
antennas incorporating high dielectric constant composite materials.




HLB Horizons, LLC. manufactures polyhedral boranes.


EyeVerify, LLC. enables users to authorize transactions and access
information in a manner that is secure, scalable and convenient.

Q3D Visual Diagnostics, LLC. has created a non-invasive opthamology
device for the full spectral digital measurement of amblyopia (lazy eye).