Executive Vice President of Academic Affairs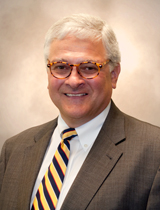 Dr. Henry "Hank" C. Foley works with a variety of campus leaders, including the campus chancellors, provosts and chief research and economic development officers. He leads the system's strategic planning efforts, provides systemwide leadership in academic programs, promotes economic development, advances research collaborations and enhance funding, as well as leads institutional research, student access and success, academic program review and eLearning functions of the system.
UM System President Tim Wolfe announced the appointment in June 2013. Foley was later named by MU Chancellor R. Bowen Loftin as senior vice chancellor for research and graduate studies at the University of Missouri-Columbia. At MU, Foley has overall responsibility for research, graduate studies, and entrepreneurship. In his role, he oversees the operations of compliance activities, internal grants and programs, sponsored programs, technology management, industry relations, as well as various campus centers (i.e. MU Research Reactor (MURR), Christopher S. Bond Life Sciences Center, Dalton Cardiovascular Research Center, International Institute of Nano and Molecular Medicine, Interdisciplinary Center on Aging, as well as the Research Core Facilities).
He also holds two tenured positions: professor of chemical engineering at the University of Missouri, and professor of chemical and biochemical engineering at the Missouri University of Science and Technology.
Prior to his appointment at the UM System, Foley served as vice president for research, dean of the Graduate School at Pennsylvania State University, executive director of the Energy Efficient Buildings (EEB) Hub—a DOE Energy Innovation HUB—and president of the Penn State Research Foundation. In his tenure at Penn State, Foley served in the roles of named chair, department head, associate vice president for research and director of strategic initiatives, and dean of the College of Information Sciences and Technology.
Foley has extensive industry experience, including working for American Cyanamid and consulting with companies such as Westvaco, Air Products, Monsanto, DuPont and Engelhard Corporation.
Foley holds numerous memberships in professional and honorary societies including the American Society for Cybernetics, the Computing Research Association, Sigma Xi, Phi Lambda Upsilon, Sigma Pi Sigma, the American Institute of Chemical Engineers (AIChE), the American Association for the Advancement of Science, and the American Chemical Society. He was a founding member of the AIChE's Catalysis and Reaction Engineering Division and served as its chair.
His awards and recognition include the New York Metropolitan Catalysis Society's Excellence in Catalysis Award, the Philadelphia Catalysis Club's Annual Award, the Leo C. Friend Award from the I&EC Division of the American Chemical Society, the Research Innovation Recognition Award from Union Carbide Corporation, the Presidential Young Investigator Award from the National Science Foundation, and the Thiele Lecture at the University of Notre Dame. He has authored more than 100 papers, holds almost 20 patents, and is author of the textbook, Introduction to Chemical Engineering Analysis Using Mathematica, published in 2003.
Originally from Providence, R.I., Foley earned a master's degree in chemistry from Purdue University and a doctorate in physical and inorganic chemistry from Penn State. Foley served on the University of Delaware chemical engineering faculty for 14 years before returning to Penn State in 2000.
Curriculum Vitae (PDF)
Reviewed 2014-06-19.