Message from the President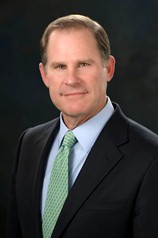 We educate the state's workforce. We are your doctors, dentists, pharmacists and medical researchers. We drive innovation and help small businesses thrive.
We deliver technology, health care to the underserved and experts in nearly every subject.
As Missouri's premier public four-year research university and a vital driving force of the state's economic health, we are committed to improving the well being of all Missourians.
Our supplier diversity effort is key to helping small businesses, particularly minority and women-owned businesses, to grow and prosper. We believe that economic inclusion is part of our overall goal of economic development in Missouri. By affording all interested firms an opportunity to compete in the university's sourcing of goods and services, we build support in the greater community and act as a good corporate citizen. More importantly, we help grow Missouri's economy by practicing economic inclusion in our supply base. A show of respect for all businesses interested in participating in the university's purchasing efforts reflects our core values.
We recognize the challenges before us: uncertanty in state funding, enrollment growth, limited tuition increases and decreased investment returns. We know that in order to continue to thrive, we must and are charting a course that helps ensure our financial viability well into the futrure. This requires strategic thinking about the university's areas of focus and how to apply precious resources to those endeavors.
Having said that, we will continue to expand and build our supplier diversity results. We will also be asking our major suppliers to help us meet our long-term goals here by significantly increasing thier supplier diversity spending as well. Supplier diversity is not just a good thing to do. It is something that can help our economy grow and be more secure in Missouri for all.
Sincerely,

Timothy M. Wolfe
President, University of Missouri System
Reviewed 2014-01-28.