Investment Philosophy
The primary objective to be achieved in the active management of endowment assets is to ensure that the endowment assets support in perpetuity the purposes intended by the donors. The university's investment strategy is designed to achieve results over time that will maintain the purchasing power of the endowment. Maintaining the purchasing power will provide protection against inflation, and thereby support the purposes for which the endowment was originally established.
The endowment funds are designed to last in perpetuity. Because of the nature of endowments, the endowment assets are managed with a long-term perspective. Over extended periods of time stocks have outperformed other asset classes such as bonds and cash. So a strong bias exists in favor of equity investments for the endowment asset pool.
Risk is important, too, in evaluating an investment strategy. Risk is often described as the measurable possibility of losing value. It can just as easily be described as the possibility of not gaining value. If an investment does not gain value over the years, it will not protect against inflation.
The risk/return tradeoff can be generally described as the greater the risk, the greater the potential reward or return.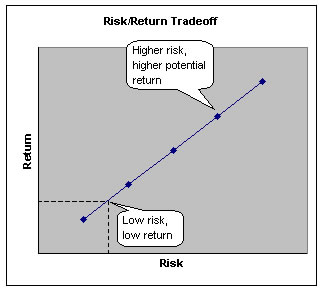 Risk can be controlled to a degree by taking advantage of the fact that different investments respond differently to economic and market events. When dissimilar investments are combined in the same investment portfolio, the overall risk of the portfolio can be reduced. This is possible even if each investment, measured on its own, is considered risky.
Diversifying the assets is good because it lessens the risk of the overall portfolio.
Diversification across asset classes, investment styles, and managers is critical to providing consistent investment performance for the endowment assets over time. Asset allocation is a systematic method of achieving the right level of diversification and of attaining the best possible trade-off between risk and reward.
Reviewed 2012-12-20.