Vice President for Finance and Administration
Natalie "Nikki" Krawitz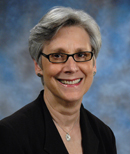 Natalie "Nikki" Krawitz is vice president for finance and administration at the University of Missouri System. She has thirty years experience in higher education in both the private and public sectors as a tenured faculty member and senior administrator. In her current position she has responsibility for the university's $2.5 billion budget and the university's treasury, investment, accounting, procurement, facilities planning and design, real estate, internal audit, risk and insurance management, and institutional research functions.
Krawitz currently serves on the Association of Public and Land-grant Universities (APLU) Board of Directors and Council on Business Affairs Executive Committee, and the National Association of College and University Business Officers (NACUBO) Research University Advisory Council.
Krawitz regularly presents workshops on higher education budgeting and finance for the American Council on Education and has authored papers on higher education budgeting, business process redesign and administrative streamlining. For more than 20 years, she was a co-author of the Intermediate Accounting Study Guide, which accompanied the Intermediate Accounting text authored by Nikolai and Bazeley. An active member of her local community, she is a board member of Stephens College, Landmark Bank, the City of Columbia TIF Commission, and the University of Missouri-Columbia School of Accountancy Advisory Board.
She was the 2010 recipient of the National Association of College and University Business Officers' Distinguished Business Officer award for outstanding contributions to business and financial management in higher education during her career. She has an A.B. degree from Washington University, a master's degree from Teachers College, Columbia University, and a master's in accountancy from the University of Missouri-Columbia. She is a Certified Public Accountant.
Reviewed 2011-08-26.