Letter from the President
Dear Colleague: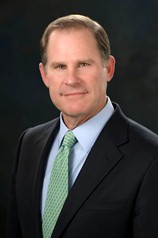 It is my great pleasure to welcome you to the University of Missouri. We are pleased that you have chosen to become a part of the state's premier network for academic, scientific and economic progress. You will be working with thousands of others across our four campus system to advance the quality and mission of Missouri's signature public research university.
I believe you will find the University more than just a place to work. It's a place you can build a career; it's a place you can make a difference. We offer a wealth of benefits, programs and learning opportunities to help you make the most of your time at the University, and the Staff Handbook is a good place to start. This handbook is designed to help you feel comfortable in your new position by acquainting you with important information about human resources policies and procedures.
The real strength of a great university lies in its people, and we appreciate your commitment and dedication to making our great university even better. Congratulations on your new position, and please accept my best wishes in your career with the University of Missouri community.
Timothy M. Wolfe
President
Reviewed 2012-02-15.