Leadership Development Program
2015
program & application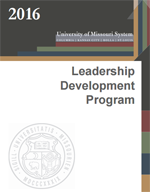 The application period has now closed, but you may refer to this program for an overview of the LDP.
---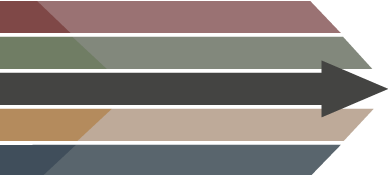 Program Benefits
The university's current and emerging leaders define the direction and values of their department and school. In turn, these leaders shape how our university discovers, disseminates, preserves, and applies knowledge. The University of Missouri System Leadership Development Program (LDP) affirms the vital role of faculty leaders and enhances effective leadership to create the conditions for high performance, high commitment, and cultural competence in the academic setting.
Through the program, members are able to come together to further development and growth as leaders, while expanding and enriching professional networks on personal and institutional levels. Upon completion of the program, LDP members will have gained practical skills to:
Offer guidance and support to the faculty managed by LDP members
Strategically plan for the future of an academic school or department
Work with a network of peers to tackle leadership concerns
Build commitment among department colleagues toward academic excellence and the UM mission
Curriculum
Those selected to participate in the LDP will join a network of faculty dedicated to quality leadership and advancing academic excellence. Each cohort follows a similar curriculum:
For the 2015 Cohort

Event

Subjects

Kickoff meetings

What is the LDP?
What is a leader?
How does leadership differ in an academic setting?

July 2015
TBD
4 meetings, one each in Columbia, KC, Rolla, and St. Louis
Fall retreat

What are the different kinds of leadership styles? What are each individual's leadership characteristics? Learn through self-assessments and 360-degree assessments.
How can a leader evaluate and improve his or her own leadership skills, as well as the skills of faculty and staff the leader manages?
What critical leadership challenges does the cohort wish to collaborate on?

Alumni session - During the afternoon of the second day, past cohorts are invited to join the current cohort for an alumni session and networking opportunities
Reception - Provosts, deans, and other academic leaders are invited to show their support for the current cohort. A senior leader provides remarks, certificates are presented to the exiting cohort, and attendees have an opportunity to network.

September 21-23, 2015
Courtyard Marriott
3301 LeMone Industrial Blvd.
Columbia, MO 65201
Workshop
1
Topics TBD by cohort at fall retreat
TDB
by cohort
TBD
Columbia, MO
Workshop
2
Topics TBD by cohort at fall retreat
TDB
by cohort
TBD
Columbia, MO
Workshop
3
Topics TBD by cohort at fall retreat
TDB
by cohort
TBD
Columbia, MO
Ongoing campus meetings
The cohort in each region is encouraged to meet locally once per month between full-cohort meetings to discuss common concerns and campus issues, and to share ideas and advice
TBD
TBD
*Topics previously offered include: "managing different work styles," "how to have difficult conversations," and "defining "the why" of your department."
Selection Process
To be considered for participation in the LDP, faculty members had to obtain endorsement from their leadership sponsor and submit an application to the Office of Talent Management. The 2015 application period ran from March 13 to April 10, 2015. The application process is now closed.
The Office of Talent Management and university provosts are in the process of selecting the 2015 cohort. Candidates will be notified of their selection to or exclusion from the cohort around the conclusion of the spring semester. Please note that due to the competitive nature of the program, not all who apply will be accepted.
Cost
This professional development opportunity is provided by UM Human Resources, with no cost to cohort members. Individual members' home unit is expected to cover any travel and lodging costs.
Questions
Contact the Office of Talent Management at (573) 884-1878 or talentmgmt@umsystem.edu. The Talent Management team includes:
Greg Holliday, Ph.D., Director of Leadership Development
Jill Wood, Ph.D., Director of Talent Management
Katina Volle, HR Specialist, Talent Management
Past cohort members are also good resources. Member lists are provided on the Overview & Past Cohorts webpage.
Reviewed 2015-06-05.
Accessibility: We provide accommodations to people with disabilities upon request. If you encounter something that is not accessible on the Peoplesoft HR Training pages, please call Tech Support at (573) 882-5000 for assistance.