Chief Communications Officer
John Fougere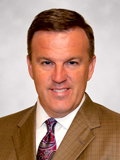 John Fougere is the Chief Communications Officer for the University of Missouri System, where he is responsible for providing senior-level leadership direction for the development and execution of comprehensive media and public relations strategies for the UM System, including the President and Board of Curators. Fougere has more than 20 years experience in public relations and media.
Prior to joining the UM System in 2013, Fougere served as Director of Communications for the Missouri Department of Economic Development (DED), where he helped coordinate, communicate and promote the economic vision and message of the State of Missouri leadership. Prior to joining DED in 2009, Fougere previously served as Press Secretary to Attorney General Jay Nixon (2005-2008) and Public Information Officer for the Missouri Department of Corrections (1997-2005). From 1989-1997, Fougere worked as an anchor/reporter for television and radio stations in Columbia, Missouri and Peoria, Illinois.
A native of Framingham, Massachusetts, Fougere is a 1989 graduate of the University of Missouri, Columbia (MA, Broadcast Journalism) and a 1987 graduate of Springfield College (BA, English) in Springfield, Mass.
Reviewed 2013-08-01.
Can't find what you are looking for?

Search umsystem.edu: