Director of Federal Relations
Craig Stevenson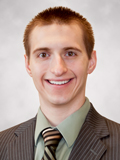 Craig Stevenson is the director of federal relations for the University of Missouri System. Stevenson was born and raised in Rolla, Mo. In high school, he became the first student to serve on a school board in an ex-officio capacity in the state of Missouri, serving as the student representative to the Rolla Public School Board of Education.
Stevenson, a first generation college student, holds a bachelors of arts and a masters of public affairs from the University of Missouri. Throughout college, he held leadership positions in the Missouri Students Association and the Associated Students of the University of Missouri.
In 2010, Stevenson joined the University Relations office at the University of Missouri System, and in 2012, he became the director of federal relations. As the University of Missouri's main contact with the Congressional delegation staff both in Washington, D.C. and in Missouri, Stevenson monitors and communicates University of Missouri System impacts to the Missouri delegation staff. Stevenson's responsibility also includes facilitating Congressional visits on the University of Missouri System campuses and faculty/staff visits in Washington.
Stevenson is an active member and on the Lead Team for Missouri United Methodist Church in Columbia, and enjoys volunteering at Loaves and Fishes and the Room at the Inn, two of Columbia's ministries that serve the homeless in Columbia. In addition, Stevenson has been an adult counselor for a Methodist youth camp and been on two mission trips to Mozambique, Africa. Stevenson is also a member of Rotaract, the young professionals Rotary Club in Columbia.
In their spare time, Stevenson and his wife, Brittney, enjoy training and running half marathons and closely following St. Louis Cardinals baseball.
Reviewed 2013-08-07.
Can't find what you are looking for?

Search umsystem.edu: