UM System Legislative Priorities
Supporting the University of Missouri System is an investment in the future of our state.
The university serves Missouri citizens and communities through its mission of teaching, research, public service and economic development across our four campuses and University of Missouri Extension. Support of the following priorities will help us carry out our core mission.
Download UM System Legislative Priorities (PDF)
---
Retaining and Enhancing Core Operations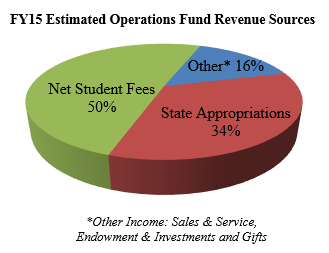 Support state funding requests for core operations, performance funding and for continuing initiatives to help ensure we can carry out our mission.
$428.7 million base appropriation (FY15)
$15.4 million for a 3.6 percent performance funding increase to reward UM for meeting all of our performance measures.
$12.3 million in additional core funding needs including:

$10 million for the MU School of Medicine partnership to increase the number of doctors serving southwest Missouri.
$2 million for the Joint Pharmacy program between UMKC and Missouri State University.
$340,000 for the Missouri Federal and StateTechnology partnership program.
---
Maintenance and Repair Projects
Support maintenance and repair projects funded from revenue bonds approved by lawmakers last year.
The university currently faces a $1.4 billion backlog of renovation and repair projects. High priority projects have been identified to be funded through revenue bonds approved by lawmakers last year.
Maintenance and repair priorities for UM include $12.5 million for Stewart Hall at MU; $18.3 million for Spencer Chemistry and Biological Sciences at UMKC; $12.1 million for Schrenk Hall at Missouri S&T; and $13.6 million for Benton Hall at UMSL.
---
Supporting Public-Private 50/50 Projects
Donors have stepped up to support the university's capital projects. State matching funds will leverage this support for a true 50/50 partnership with the state.
We seek $29.7 million in matching funds for the first four projects: $11.1 million for the Applied Learning Center at MU; $7.4 million for the Free Enterprise Center at UMKC; $1.2 million for the Experimental Mine Building at Missouri S&T; and $10 million for the College of Business Administration Building at UMSL.
We support use of a portion of additional bonding revenues by the state to match other projects already approved by the Department of Higher Education as well as future projects where funds could be raised.
Reviewed 2015-02-02.
Can't find what you are looking for?

Search umsystem.edu: