Marketing Specialist, Research and Economic Development
Kelly Peery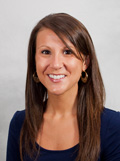 Kelly Peery is a marketing communications specialist focused on multimedia communications support for the Office of Research and Economic Development.
Her responsibilities include development of strategic messaging within publications, executive presentations, website development and office-specific social media sites. She also serves as a university liaison on multiple committees and at regional economic development events.
Prior to joining the UM System, she was a communications coordinator, managing all internal and external communications, for the Reynolds Journalism Institute at the University of Missouri School of Journalism. She earned a bachelor's degree in convergence journalism from MU and is currently obtaining her master's degree in strategic communication, also from MU.
Reviewed 2013-02-04.
Can't find what you are looking for?

Search umsystem.edu: