Senior Marketing and Communications Coordinator
Kelly Peery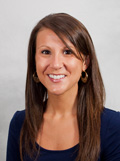 Kelly Peery is a senior marketing and communications coordinator for the Office of University Relations where her primary responsibility, as chief speechwriter, is to research, develop and manage executive-level communications for the UM System President and leadership.
Serving as assistant spokesperson for the UM System, Peery assists the Chief Communications Officer with inquiries from news media and other external sources.
As part of the strategic communications team, she develops key messages and targets relevant audiences for effective internal and external communications including marketing and promotional content of university-related publications and projects. In addition, she acts as liaison for the Offices of Finance and Academic Affairs, Research and Economic Development for their communication needs.
Prior to joining the UM System, she was a communications coordinator, managing all internal and external communications, for the Reynolds Journalism Institute at the University of Missouri School of Journalism. She earned a bachelor's degree in convergence journalism from MU and is currently obtaining her master's degree in strategic communication, also from MU.
Reviewed 2014-05-08.
Can't find what you are looking for?

Search umsystem.edu: