Manager of Constituency Communications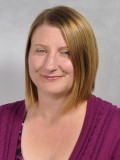 As Manager of Constituency Communications, Melanie Barger coordinates the engagement of internal and external constituencies important to building support for the mission of the University of Missouri System. She directs the constituency relationship management process through a strategic communications calendar, oversees constituent data management, and coordinates appropriate communications materials and training.
From 2001-2012, Barger held positions in alumni and college relations at Westminster College working closely with alumni, donors, faculty, staff, parents and students, to implement events, manage communications and web content, coordinate volunteer and outreach efforts, and data collection. Under her leadership, the department launched the highly successful Blue Jay Road Trip summer outreach program and a series of enewsletters to keep strategic audiences informed and engaged. As well, she worked in partnership with campus departments to host major events and international speakers. She served as the advisor for Student Ambassadors and was recognized as the 2012 Outstanding Advisor by the Student Government Association.
Prior to Westminster, Barger taught Family & Consumer Sciences in California, MO. As a graduate student at the University of Missouri-Columbia, Barger served as the campus liaison to the MU Parents Association managing membership marketing, benefits and data. She also worked in the HES Student Services office, coordinating newsletters for alumni, faculty and staff, developing marketing displays, and advising several student organizations.
Barger holds a master's degree in education and a bachelor's degree in environmental design from the University of Missouri-Columbia. She is a member of the Council for Advancement and Support of Education (CASE) and CASE Affiliated Student Advancement Programs (CASE ASAP). She has served in numerous volunteer positions on CASE District VI conference planning committees and hosted the 2012 CASE ASAP D6 Conference.
Reviewed 2013-02-04.
Can't find what you are looking for?

Search umsystem.edu: