Multimedia Specialist
David Champlin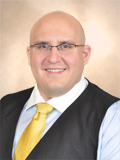 David Champlin is a multimedia specialist spearheading the department's print and Web graphics efforts, including the visual identity of the system's new "Advancing Missouri" communications campaign.
He is proficient in visual design and execution, and has extensive knowledge in numerous multimedia content production programs. In addition, he is proficient in both HTML and CSS for web design, layout and interactivity. Champlin also serves as the department's chief photographer.
Prior to joining the UM System, Champlin worked as a graphic designer for both Student Auxiliary Services and the School of Medicine at the University of Missouri-Columbia. He earned a bachelor of fine arts degree in graphic design from MU.
Reviewed 2013-02-04.
Can't find what you are looking for?

Search umsystem.edu: