Web Programmer
Doug Kuschel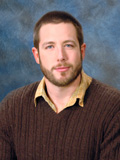 Doug Kuschel has served as a database programmer and analyst for the University of Missouri System for more than 10 years.
As a part of the Digital Communications team, he maintains the infrastructure and content of the system's more than 23,000 Web pages and a host of other sub-sites. He also is responsible for all web applications associated with the system site, serves as the architect behind the system's new content management system, and provides administrative support for collaborative web applications.
Before joining the UM System, Kuschel enlisted in the United States Marine Corps as an infantryman at age 17. After fulfilling his military obligation, he earned a bachelor of science degree in Business Management from Columbia College and a master's degree in educational technology with an emphasis in network learning systems from the University of Missouri-Columbia.
Reviewed 2013-02-04.
Can't find what you are looking for?

Search umsystem.edu: