Show Me Value
The Council on Public Higher Education, comprised of Missouri's 13 public four-year universities, has issued a publication that explains how investing in Missouri's public universities creates opportunities and adds value to the state. Investing in Missouri's public universities creates opportunities and adds value to the state for four major reasons:

Public universities develop the advanced workforce of the 21st century.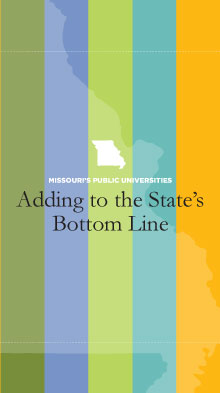 UM System granted 16,515 degrees in Fiscal Year 2012 that prepared graduates to join Missouri's workforce in areas such as engineering, health, business, science and the arts.

Public universities "teach the teachers." Our graduates are educating the state's next generation of leaders, from preschool through doctoral programs.
In 2012, alumni of our four campuses represented 19.5% of all Missouri K-12 teachers and 30.1% of principals and administrators.

Public universities fuel the economic engine of Missouri every day of every year.
With more than 31,600 faculty and staff, UM System was Missouri's 2nd largest employer in 2011. Last year, UM employees and retirees residing in the state paid $47.8 million in Missouri state taxes.
Our network of 10 research parks and incubators, and dozens of small business and technology development centers, provides infrastructure to grow new companies.
We are investing in moving faculty innovations to the marketplace. Last year, the university licensed 66 technologies, and five startup businesses were created based on UM innovations.
University Extension helped create or retain more than 3,600 jobs through free business consulting in the last fiscal year.

Public universities improve the quality of life in Missouri by providing public benefits, as well as personal benefits.
We have the state's broadest range of health education opportunities, from occupational therapy to optometry; from pharmacy to dentistry; and from nuclear medicine to public health.
Our vast network of hospitals, clinics and affiliates provides care to people in every Missouri county. Additionally, the Missouri Telehealth Network connects patients in rural and remote areas with expert care through video conferencing technologies.
Faculty, staff and students contribute to the state's vibrant arts culture, which makes our state a great place to live and work.