Cheryl D.S. Walker, Co-Chair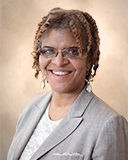 Cheryl D.S. Walker
BS 1986
Missouri University of Science and Technology
Cheryl D.S. Walker earned a bachelor's degree in electrical engineering from Missouri University of Science and Technology – formerly the University of Missouri-Rolla – in 1986 and a juris doctor from Washington University in 1990.
Walker is Of Counsel in the St. Louis office of Bryan Cave LLP, an international law firm, and practices in the areas of real estate, business and public finance as a part of the firm's Real Estate and Financial Services Client Service Groups where her clients include real estate project owners, lending institutions, quasi-governmental agencies and various other business enterprises. She also drafts, negotiates and advises businesses on commercial agreements and their impact on business operations as part of the firm's Technology, Entrepreneurial and Commercial Practice Client Service Group. Walker also served as Pro Bono Lead Counsel for the Ferguson Commission.
Walker was appointed to the University of Missouri Board of Curators by Governor Bob Holden in 2003 where she represented Missouri's First Congressional District. She served as vice chair of the board in 2007 during the presidential search that resulted in Gary D. Forsee being named as the 22nd president of the UM System. She served a one-year term as board chair in 2008.
Walker placed special emphasis during her term as board chair on the unique role of the university in serving the state's economy as an economic driver and laid the foundation for future partnerships with Missouri's business community. As a part of this effort, she worked with system administration to engage and educate small business and minority business leaders in university building, contracting and procurement policies and opportunities, thus developing more diverse business relationships for the university.
Walker has been active in her community serving as board chair of the Deaconess Foundation, vice chair of the Regional Health Commission, a member of the Board of Commissioners for the St. Louis Regional Arts Commission and as a member of the Board of Directors of St. Louis Social Venture Partners. In addition, she has served on the Board of Commissioners of Tower Grove Park and a member of the Board of Directors of United Way of Greater St. Louis, and the Cedric The Entertainer Foundation.
Walker has received numerous honors and awards including the YMCA Metro St. Louis Women Leaders Award, NAACP 100 Most Inspiring St. Louisans, the Missouri Lawyer's Media Women's Justice Award, the St. Louis Business Journal Most Influential St. Louisans, the Missouri S&T Women's Hall of Fame, and the National Society of Black Engineers-St. Louis Chapter Excellence in the Legal Profession Award.
Cheryl D.S. Walker high resolution photo: https://www.umsystem.edu/media/images/Highres_Walker_Cheryl.jpg.
Reviewed 2016-03-18.