James H. Whitaker, Co-Chair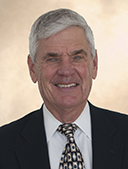 James H. Whitaker
BS 1967, MD 1971
University of Missouri-Columbia
James H. Whitaker, MD, earned a bachelor's degree from the University of Missouri-Columbia in 1967 and a doctorate of medicine from the MU School of Medicine in 1971. He attended the university on an athletic scholarship and was co-captain of the 1966-67 Dan Devine coached football team. He was selected to the Big 8 All Conference Team, the NCAA Scholastic All American Team and was the recipient of the prestigious NCAA Post Graduate Scholarship. In 2001, he was inducted into MU's Sports Hall of Fame.
While attending medical school, Whitaker served as president of his class and was selected as a member of AOA, the national academic medical honorary society. Upon graduation from medical school he completed his internship and residency in Orthopedic Surgery at the University of Kansas followed by a fellowship in Hand and Upper Extremity at the University of Indiana.
Dr. Whitaker returned to Kansas City in 1976 and joined Kansas City Bone & Joint Orthopedic Clinic. He is certified by the American Board of Orthopedic Surgery and American Society for Surgery of the Hand. For 35 years, he practiced orthopedic surgery serving as team physician and consultant to many high school, collegiate and professional sports teams.
In addition to sports medicine, Dr. Whitaker focused on joint replacement and upper extremity surgery. He served as the managing partner of his medical group for 10 years and is now an emeritus member of KCBJ. He has served as president of the hospital medical staff and is a member of multiple Medical Societies and Specialty Boards. Dr. Whitaker currently works at several rural and indigent care orthopedic clinics in Kansas City and the surrounding area.
Dr. Whitaker married his wife, Leslie, in 1967. She is a graduate of the University of Missouri-Columbia where she earned a bachelor's degree in special education. Their three daughters, all graduates of the University of Missouri-Columbia, are married and live in the Kansas City area. They have seven grandchildren.
In 1994, Dr. Whitaker was the first recipient of the Dan Devine Award, recognizing excellence on and off the athletic field. He received the MU Faculty-Alumni Award in 1996. He has served on MU's National Campaign Steering Committee and has been active in the Kansas City Jefferson Club. Dr. Whitaker is a member of The Missouri 100, an advocacy group that supports and promotes the University of Missouri System. He currently serves on the MU Health Care Advisory Board.
James H. Whitaker high resolution photo: https://www.umsystem.edu/media/images/Highres_Whitaker_James.jpg.
Reviewed 2016-08-12.