'Twas the Night before Cyber Monday: Tips for Secure Online Shopping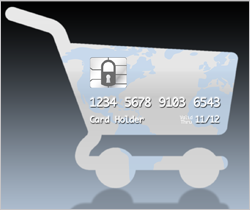 'Twas the night before Cyber Monday and all through the house not a creature was stirring…well except for me and my computer mouse! The stockings were hung by the electric fireplace with care, in hopes that Cyber Monday sales would bring Christmas cheer. The children were nestled all snug in their beds, while visions of a new Xbox and iPods danced in their heads! When all of the sudden an Internet ad arose such a Facebook chatter; I swiftly clicked on the thread to see what was the matter. I opened a new browser tab like the Flash, tore open the ad and revealed a HUGE coupon stash! I knew in that moment I would be better than St. Nick! I whistled, and shouted, and called them by name; Now, Best Buy! Now, New Egg! Now, Target and Lowes! On, Amazon! On, Walmart! On, Macy's and Kohl's. Now shop away, shop away, shop away all! Lucky me, I didn't even have to make a trip to the mall!
Electronic retail is a non-shopper's holiday shopping and gift giving dream come true! The lines are nonexistent, the wait time is short, and your online shopping cart will never present you with a squeaky or wobbly wheel. It truly is the best of both worlds. You can stay home and shop from your computer while wearing your warm and comfy pajamas and slippers. Not only that, but the parking is close and you do not have to watch strangers duke it out over the last new flat screen TV. Unfortunately, online shopping can also pose some dangers. Many unscrupulous websites may attempt to scam you. Follow these tips to protect yourself while shopping online:
Be wary of online stores offering a price that is dramatically cheaper than anyone else. This could be a sign of a fraudulent website. If there is no phone number to call or the website contains poor grammar or spelling, it could be indicators of a scam.
Double check your domain names. Almost all reputable vendors have registered domain names which match their company name, such as: www.<companyname>.com. Check your spelling; subtle misspellings of company names are often used by phishers seeking to lure you to counterfeit websites (1).
Read other customer's feedback about the vendor and merchandise. Read both positive and negative comments from other consumers to help you make educated decisions before you make a purchase (1).
Utilize anti-virus protection, keep your system up-to-date, and make sure your firewall is on. Your firewall prevents others from connecting to your device over the network; this is a great first line of defense! However, you should also employ anti-virus software in order to protect you from malware and other nasty viruses, which can harvest information from your device. Keep in mind that your operating system, anti-virus software, and web browser must be kept up-to-date with the latest security patches.
Consider having two computers, one for your kids and one for the adults. Kids can be naturally curious. Because of this they are more likely to infect their own computer. Using a separate computer for online transactions helps reduce the risk of your computer being infected. If you cannot have two computers, have separate accounts on the shared computer.
Employ strong password safety. If the vendor requires account creation, use a strong and unique password for each individual site. If possible, opt out of automatically saving your credit information. It is safer to reenter these details each time you return to the site to make a purchase
Be smart with your credit card. Keep an eye on your statements to identify suspicious charges. Some credit cards give you the option to generate a unique card number for every online purchase. Services like PayPal are also useful because you do not have to expose your credit card with every purchase.
Know the return policy before you buy! Understand your rights when it comes to returns, exchanges, refunds, and credits BEFORE you make an online purchase (1). Is there a restocking fee or a shipping charge for returning the merchandise?
References:
SANS Institute. (2010). Safer online shopping. Retrieved from, http://www.securingthehuman.org/newsletters/ouch/issues/201006.pdf.
SANS Institute. (2013). How to Shop Online Securely. Retrieved from, https://www.securingthehuman.org/newsletters/ouch/issues/OUCH-201311_en.pdf
Last updated: November 15, 2016