Governor and higher education institutions announce agreement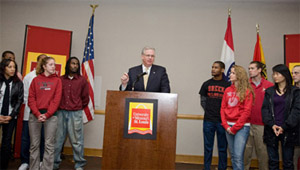 Gov. Jay Nixon held press conferences at UMSL and MU the week of Nov. 16 to announce an agreement with Missouri's public, four-year higher education institutions to hold in-state, undergraduate tuition flat for the 2010-2011 school year. In return, Nixon agreed to maintain higher education funding at approximately 95 percent of the current fiscal year's appropriations. The reduction would be approximately $42 million spread across all institutions. The agreement is subject to approval by the General Assembly, which convenes Jan. 6 to determine the state's FY11 budget.
Caption: Gov. Jay Nixon announces agreement with public four-year higher education institutions to hold tuition flat in 2010-2011 academic year at a press conference at the University of Missouri-St. Louis. Click here to see photo from MU announcement.
Let the filing begin!
Pre-filing of Senate and House bills for the 2010 legislative session began Dec. 1 with several trends developing after a review of early bills filed. Reinstatement of campaign finance limits, regulation of texting while driving, review of tax credit programs and changes to the state's conceal and carry law are the topics appearing most frequently in the list of bills.
In the House, changes to the conceal and carry law appear in five different bills, and three lawmakers want to prohibit texting while driving. Two early pre-filed bills that impact higher education include HB1224, introduced by Joe Smith, (R-Weldon Springs) which establishes a Missouri National Guard and Missouri Reservists Family education grant program; and HB1240 introduced by Cynthia Davis, (R-O'Fallon) which would authorize a state income tax deduction for tuition costs. A full list of pre-filed House bills can be seen here.
The Senate's list of pre-filed bills can be seen here.
Thompson Center representatives speak at press conference
Dr. Steve Kanne and Mr. Myles Hinkel spoke at the governor's press conference Dec 3 regarding a bipartisan agreement on legislation mandating insurance coverage for autism and autism spectrum disorders. Kanne, a clinical psychologist with MU's Thompson Center for Autism and Neurodevelopmental Disorders, discussed the importance of early diagnosis and intervention. Hinkel spoke about his personal experiences with autism as a Columbia father whose son has benefitted from treatment at the Thompson Center. Sen. Scott Rupp (R-Wentzville) and Rep. Dwight Scharnhorst (R-Manchester) introduced legislation in the Senate and House to require insurance companies to cover diagnosis and treatment with no limit on the number of visits and to prohibit restriction of coverage based on such diagnosis. The bill numbers are SB618 and HB1311. For more information about MU's Thompson Center, go to http://thompsoncenter.missouri.edu.
Senate appropriations chairman and vice chairman tour MU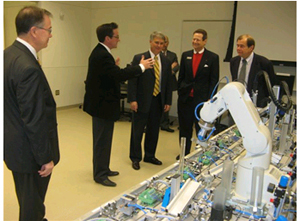 Newly appointed Senate Appropriations Committee chairman Rob Mayer (R-Dexter) and Vice Chair Kurt Schaefer (R-Columbia) toured MU facilities with MU Chancellor Brady Deaton before meeting with him to learn more about budget challenges facing the University on Dec. 7.
The senators toured Lafferre Hall at MU's College of Engineering with Dean Jim Thompson to view recently or soon-to-be renovated laboratory and classroom space. The project is the top capital request for MU in the coming year. They also visited MU's Fine Arts building as well as MU Health Care.
Caption: Sen. Kurt Schaefer, second from left, makes a point to Sen. Rob Mayer as the group views a robotics machine in MU's Lafferre Hall. For other photos, click here.
Senators tour MURR as part of Job Creation 2020 Committee hearing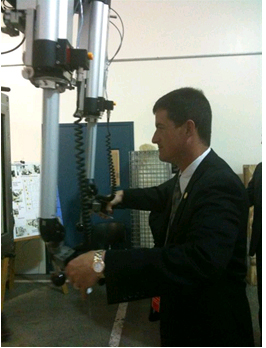 Members of the Senate Job Creation 2020 Committee conducted a hearing at MU Nov. 18, which included a visit and tour of MU's Research Reactor. University of Missouri System Vice President for Research and Economic Development Mike Nichols presented an overview of technology transfer and research park activities to the committee.
Sen. Tom Dempsey (R-St. Charles) requested the MURR tour to help illustrate the impact of new discoveries on future economic potential for the state. The committee must report to the Senate by the end of next year.
Sen. Brad Lager (R-Savannah) tries his hand with a robotic arm while visiting laboratory facilities at MU's Research Reactor in Columbia.
University supporters testify in Senate
The Senate Appropriations committee met on Dec. 7 to take public testimony after being briefed on the state revenue situation, which shows a year-to-date decline of 11 percent. Discussion included how best to balance a number of competing and worthy interests. Representatives from the following University organizations and programs testified on behalf of the University of Missouri: University of Missouri Alliance of Alumni Associations, Missouri Telehealth Network, Missouri Kidney Program, Missouri Institute of Mental Health, MOREnet, and the Missouri Historical Society.
The meeting was convened by new committee chair Sen. Rob Mayer (R-Dexter) and new committee vice chair Sen. Kurt Schaefer (R-Columbia). Mayer takes over for Sen. Gary Nodler, who resigned his chairmanship last month.
MU chancellor meets with legislators, alumni in Cape Girardeau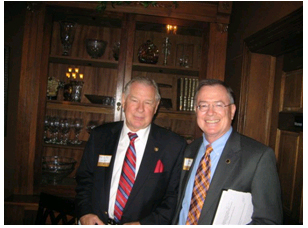 MU Chancellor Brady Deaton provided a Mizzou update to area legislators and alumni during a Mizzou Alumni Association event in Cape Girardeau Nov. 11. Legislators attending included Sen. Jason Crowell (R-Cape Girardeau); Rep. Scott Lipke (R-Jackson), Rep. Steve Hodges (D-East Prairie), Rep. Ellen Brandom (R-Sikeston) and Rep. Billy Pat Wright (R-Dexter). The Chancellor provided information regarding undergraduate enrollment, research successes, and budget plans in the challenging economic environment.
Caption: From left, Rep. Billy Pat Wright, (R-Dexter) and MU Chancellor Brady Deaton at the Alumni Association event in Cape Girardeau. For other photos, click here.
Bond signs copies of new book at MU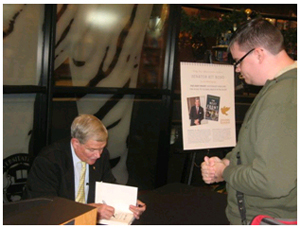 U.S. Sen. Kit Bond signed copies of his new book, "The Next Front: Southeast Asia and the Road to Global Peace With Islam," during a booksigning Nov.13 at University Bookstore in Columbia. While compiling information for the book, Bond consulted with MU Chancellor Brady Deaton who is known for his expertise in the area. The chancellor introduced Bond at the signing.
Legislators tour Missouri Rehabilitation Center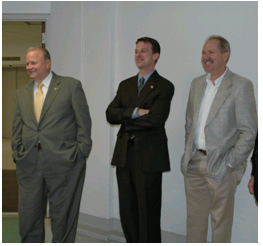 The Missouri Rehabilitation Center hosted area legislators Nov. 9 for a luncheon and tour. Sens. Gary Nodler (R-Joplin) and Jack Goodman (R-Mt. Vernon) and Reps. Don Ruzicka (R-Mt. Vernon) and Charlie Denison (R-Springfield) visited the facility to learn about the specialized services it provides.
A regionally recognized long-term acute care hospital, MRC serves patients from all over Missouri and beyond.
Caption: Sens. Gary Nodler and Jack Goodman and Rep. Don Ruzicka tour Missouri Rehabilitation Center in Mt. Vernon. (Not pictured: Rep. Charlie Denison.)

Print This Post