40th Annual Legislative Day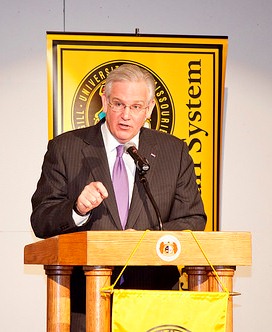 Hundreds of university employees, alumni, friends and supporters filled the Capitol Rotunda Tuesday for the 40th annual Legislative Day. The day of legislator visits began with a morning rally, which featured Governor Jay Nixon and UM System President Tim Wolfe. Nixon praised the university's decision to freeze undergraduate tuition for the 2014-2015 academic year and touted Missouri's low tuition rates.
Wolfe laid out legislative priorities for the UM System, including rataining core operation funds, investing in the STEM disciplines and supporting capital projects.
"To prepare for our continuing increases in enrollment, expanded research capacity, and specific challenges such as training more STEM graduates for the 21st century economy, our biggest bottleneck continues to be capital projects such as buildings and lab space," Wolfe said.
Wolfe highlighted 50-50 funding projects - half funded through private donations and half funded by the state - which would support seven capital projects and create 4,000 jobs.
Legislative Day is sponsored by the University of Missouri Alliance of Alumni Associations and MU Extension. In addition to the rally and legislator visits, a legislative issues panel was held in the House Lounge and campus/program displays were open on the 3rd floor Rotunda.
In the News:
News Tribune: Wolfe leads rally for MU funding
Columbia Missourian: At Legislative Day, Gov. Nixon, UM president stress education funding
Columbia Daily Tribune UM System supporters rally at the Capitol for Legislative Day
ABC 17: Gov. Nixon, University of Missouri system president speak at rally
Photo Slideshow
Trouble viewing: view directly on Flickr
Comments