Show Me Value: Palmyra
UM System President Tim Wolfe, joined by Board of Curators Chair Don M. Downing, visited Palmyra Middle School today marking the 12th stop of his Show Me Value tour. Focused on communicating the value of higher education to Missouri's middle and high school students – as well as community members – Wolfe used the visit as an opportunity to talk about the innumerable benefits of going to college. In addition, he toured BASF, a global chemical company with a facility in Hannibal that produces a variety of chemical products that help farmers meet the growing needs for an abundant and affordable supply of food.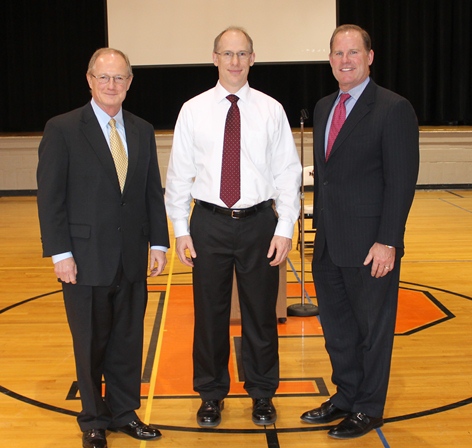 Left to Right: Don Downing, chair of the board of curators, Kirt Malone, principal of Palmyra Middle School, and Tim Wolfe, president of the UM System.
Comments