Legislative Day 2013
More than 400 alumni, faculty, staff, and friends of the four campuses in the University of Missouri System and MU Extension converged on the state Capitol on April 3rd for the 39th annual Legislative Day. The day is sponsored by the University of Missouri Alumni Alliance and MU Extension and involves visits with legislators, campus and Extension displays, and a rally.
Chairman of the Alumni Alliance, Mike Albano, emceed the rally, which featured remarks by Missouri House Speaker Tim Jones (R-Eureka) and UM System President Tim Wolfe. All four campus chancellors and the vice provost for Extension were also in attendance.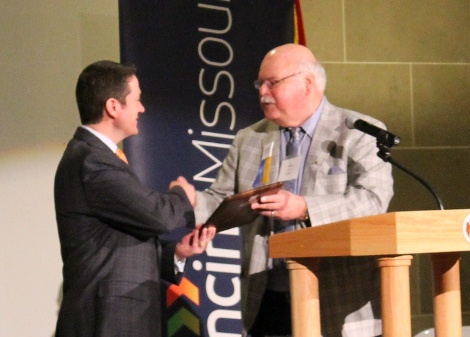 Albano presented Speaker Jones with the Alumni Alliance Presidential Citation for Outstanding Service.
The Alumni Alliance is a group of 40 members, comprised of alumni from all four of the University of Missouri campuses and Extension. The group was created by the Board of Curators in 1969 to encourage communication and cooperation among the System campuses and to help University advocates speak with one voice when delivering messages to legislators, community leaders, and the public. University Extension was added to the group in 1994.
Photo Slideshow
Trouble viewing: view directly on Flickr
Comments