Vietnamese Ambassador Visits University
President Wolfe and university administrators hosted Nguyen Quoc Cuong, Vietnam's ambassador to the United States, at the Columbia campus to explore trade between Missouri and Vietnam. U.S. Representative Vicky Hartzler (R-Harrisonville) as well as representatives from the City of Columbia joined faculty and staff for a trade forum held at the Reynolds Journalism Institute.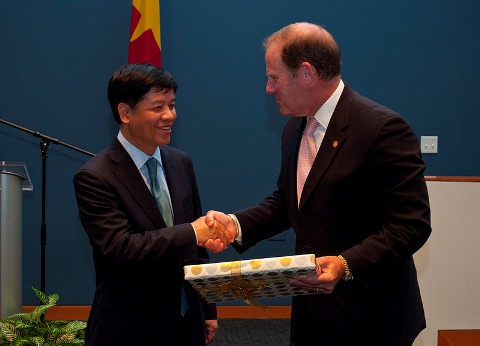 In addition to the trade forum, Cuong and his delegation toured the MU College of Agriculture, Food and Natural Resources as well as the Life Science Business Incubator.
In the News:
Columbia Daily Tribune: Vietnamese ambassador attends trade forum at MU
Photo Slideshow
Trouble viewing: view directly on Flickr
Comments