UM Staff Recognition Awards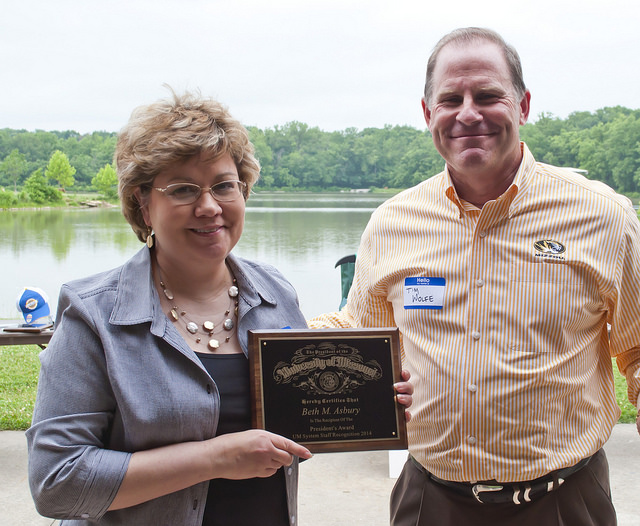 President Wolfe and colleagues presented UM Staff Recognition Awards June 6 during the Staff Advisory Counsel's annual picnic at Twin Lakes Recreation Area. The UM Staff Recognition Awards recognize individuals who make outstanding contributions to the university community. Awards are presented in four categories of service/support, administrative/professional, administrator/executive, and presidential.
Recipients included Rhonda Turner (Service/Support Award), Cindy Harmon (Administrator/Professional Award), and Craig Stevenson (Administrator/Executive Award).
The presidential award recipient is chosen from finalists from the other categories and includes a $1,000 award. This year's recipient was Beth Asbury (pictured above) who has been with at the university for more than 20 years and currently serves as the Interim Director of the Facilities Planning and Development department.
"Beth is a true asset to the university. In her role, she has saved the university a great amount of time and money by identifying and resolving issues across our four campuses when it comes to buildings and utilities," Wolfe said during the award presentation.
During the event, employees with 5, 10, 15, 20, 25, 30, 35 and 40 years of service were also recognized.
Comments