State of the University Address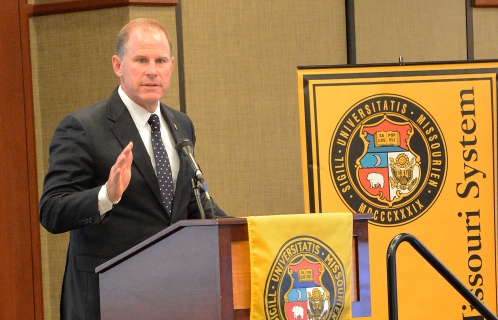 Presented Wolfe presented the State of the University Address on June 20 during the annual meeting of the University of Missouri Board of Curators in Columbia. Wolfe provided a recap of the accomplishments of the prior year as well as a look ahead.
"Let me begin by saying that the state of our beloved university is solid, and with our commitment to careful, strategic planning, is poised to flourish for the foreseeable future," Wolfe said.
Wolfe provided an overview of System Administration Strategic Plan progress, including utilizing eLearning technologies, implementing course sharing, HR improvements for competitive benefits, financing for capital projects, and the comprehensive retention initiative among others. He also highlighted the 175th and 100th anniversaries of the University of Missouri-Columbia and MU Extension, respectively.
Wolfe touted the quality of UM students as being the highest ever based on average ACT scores of entering class, as well as the board's approval of his recommendation to keep tuition levels flat for the coming year, and said that fall 2014 enrollment is expected to reach an all-time high of 76,000 students.
Comments