ALS Ice Bucket Challenge
Trouble viewing the video in your browser? Click here to view video message on YouTube.
The rules of the ALS Ice Bucket Challenge are simple: If an individual is challenged, he or she has 24 hours to video record themselves pouring a bucket of ice water over their head or donate dollars to the ALS Association. This week, UM System President Tim Wolfe was challenged by Missouri Representatives Caleb Rowden (District 44) and Caleb Jones (District 50).
Rowden and Jones caught up with Wolfe on Thurday and issued the challenge.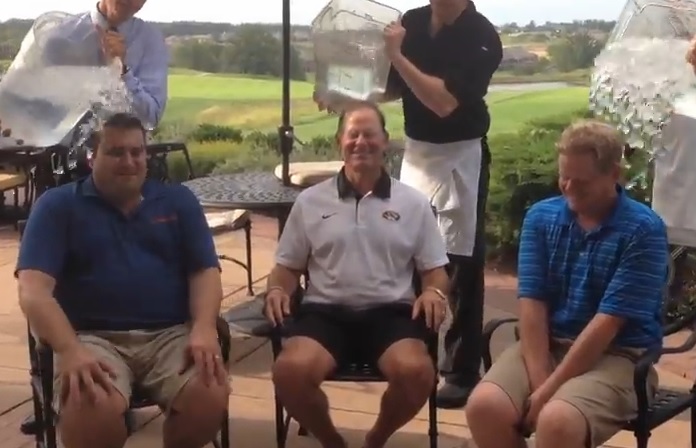 "This is to raise money to fight ALS," Rowden said to Wolfe. "We think that you are a fine, fine candiate to do it. But, we also think maybe you should challenge someone as well."
Wolfe accepted the ice bucket challenge and forwarded the challenge to other members of the local delegation including Senator Kurt Schaefer (District 19) and Representatives Stephen Webber (District 46) and John Wright (District 47). 24 hours...time is ticking.
Amyotrophic lateral sclerosis (ALS) - more commonly known as Lou Gehrig's Disease - is a progressive neurodegenerative disease that affects nerve cells in the brain and the spinal cord. The ALS Associated created the ice bucket challenge to raise awareness of ALS as well as financial support to conduct research to cure hte disease. To learn more about the association as well as the challenge, visit http://www.alsa.org.
Comments