Show Me Value: Webb City, Joplin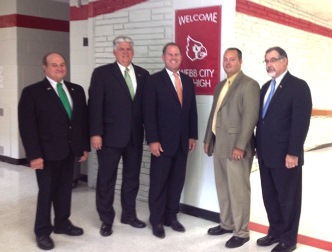 President Wolfe continued his Show Me Value tour with visits in Webb City and Joplin on October 2. Wolfe spoke to more than 600 students at Webb City Junior High to promote the lifelong value of education. To address workforce needs, Wolfe visited with the leadership of EaglePitcher Technologies, an industry leader in integrated power solutions.
Pictured left to right: Representative Bill Reiboldt; Alan Marble, interim president, Missouri Southern State University; Tim Wolfe; Anthony Rossetti, superintendent, Webb City R-VII;Representative Tom Flanigan.
In the News:
The Joplin Globe: President of UM System promotes education with stops in Webb City, Joplin
The Joplin Globe: Our View: Learning always valuable
Photo Slideshow
Trouble viewing: view directly on Flickr
Comments