Show Me Value: Jackson, Cape Girardeau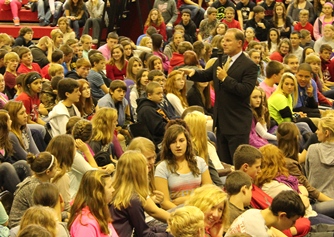 President Wolfe shared the value of education with more than 750 students at Jackson Junior High on October 30 as he continues his Show Me Value tour.
"I think it has a great impact on this age. This is the age we're starting to work with them on their four-year plan" to finish high school, assistant superintendent Beth Emmendorfer said. "It's great to have someone from the university come talk to them about the benefits of that college education."
In addition to visiting the school, Wolfe attended the grand reopening of the newly remodeled Academic Hall at Southeast Missouri State University. SEMO President Ken Dobbins, as well as members of the business community and local government officials, attended a community luncheon to discuss the importance of higher education in supporting economic growth in the state. The visit ended with a tour of one of the area's largest employers, Procter and Gamble. The company's paper product division employs more than 1,300 individuals.
In the News:
Southeast Missourian: University of Missouri System president encourages higher ed
Photo Slideshow
Trouble viewing: view directly on Flickr
Comments