Show Me Value: California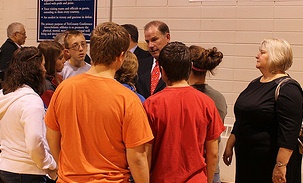 "There is no greater investment you can make in yourself than higher education," President Wolfe said to more than 200 seventh- and eighth-grade students at California Middle School on December 4.
Wolfe visited the school to share the value of education as part of his Show Me Value tour. Curator Pamela Henrickson of Jefferson City joined Wolfe for the visit. In addition, Wolfe held a local discussion at the City Hall with members of the local business community and government officials.
In the News:
News Tribune: MU president preaches value of higher education during stop
Photo Slideshow
Trouble viewing: view directly on Flickr
Comments