President's Report: Dec. Board of Curators
Interim UM System President Michael Middleton gave his first report to the Board of Curators during their December 10-11, 2015, meeting held at the University of Missouri-St. Louis
Trouble viewing the video in your browser? Click here to view video message on YouTube.
TRANSCRIPT: It's truly an honor for me to be here before you as the interim UM System president. I come before you today for my first board report as president during an extraordinary time for the University of Missouri System. A time of significant challenges to be sure, but also a time of significant opportunity. We're addressing our challenges with the determination to move us forward so that our great university can get back to achieving its mission of education, research, economic development and service.
As we all know, it has been an extremely difficult time on our Columbia campus. Over the last few months we have experienced what I've called a perfect storm at MU that challenged our leadership. And, while most of the media's focus during this turmoil was on racial issues, there were several other factors that contributed to this storm. What we are dealing with is a series of events leading to an accumulation and groundswell of frustrations. Acknowledging all these factors — the concerns of graduate students losing their health insurance, the highly charged decisions regarding Planned Parenthood, deans and faculty expressing un-sureness about leadership and academic freedom, controversial changes in leadership at our health system — acknowledging these factors provides a context for all that we're experiencing, but it does not diminish the importance of or lessen the desire to better address the concerns expressed by our students of color and other marginalized students.
Since taking office, in almost every conversation I've been asked what my main priority is in this interim role. I welcome that question because it has given me an opportunity to acknowledge all that the university has endured in recent events and our commitment to address those concerns effectively. It also allows me to clarify the valuable role that the University of Missouri System has on all of our campuses. And, it allows me to express my desire to do all that I can to instill confidence that this university will grow and improve from these experiences.
The leadership team and I must rebuild and regain the confidence of our students, our faculty, our staff, parents of our students, alumni, donors, legislators, and friends of the university. That is imperative. But we must also address the issue in front of us that led to the events that ensued. The trust of our constituents is dependent upon our addressing of these issues as we said we would and, it is my intent to do that. So, my answer has been that these two tasks go hand-in-hand as my first priority in this interim role.
As university administration we must address these social challenges. These challenges we have faced present us with a unique opportunity to position the UM System as a national leader in how we address the social issues of combating racism, promotion of diversity, equity and inclusion. And, as is evidenced by this panel, which just wowed us, we have a great team working very hard to ensure that our campuses, their environments and their climates embody that culture of respect.
The board introduced several diversity, equity and inclusion initiatives in November on which we are making real progress. For example, as evidenced by the panel, we now have fulltime campus Diversity, Equity and Inclusion Officers employed on each campus, each reporting directly to our chancellors. We'll be announcing the hiring of a first-ever UM System Chief Diversity, Equity and Inclusion Officer within the next 60 days. That individual will of course will focus on the system level on the organizational approaches that Susan Wilson so eloquently expressed in her presentation. We need to ensure that diversity is embedded in everything that we do as we do the work that we do.
We're deep into the process of creating a Diversity, Equity and Inclusion Task Force to develop both short-term and long-term strategies, plans and metrics for the system based on an inventory and audit of current programs, policies and practices. We hope to name a chair of this task force in the next few days. And, we're currently conducting a full review of all UM System policies as they relate to student and staff conduct.
We've already met the commitment made to some student groups. The full board of curators held a listening session on Nov. 20th on the Columbia campus in which representatives of 14 student groups were able to directly address the board with their concerns, their experiences and their perspectives. This information will help inform the board when it considers future decisions. And, we intend to work with student leadership on all campuses to ensure that their voices continue to be heard. As we go forward, we must remember that one of the benefits as a system is the opportunity for our campuses to learn from each other.
For example, right here on the UMSL campus, they have much to share. They were recently named a higher education excellence in diversity honoree for the third consecutive year. I understand that to be the longest active streak in the state. Chancellor George has established diversity and inclusion as fundamental organizational principles on this campus.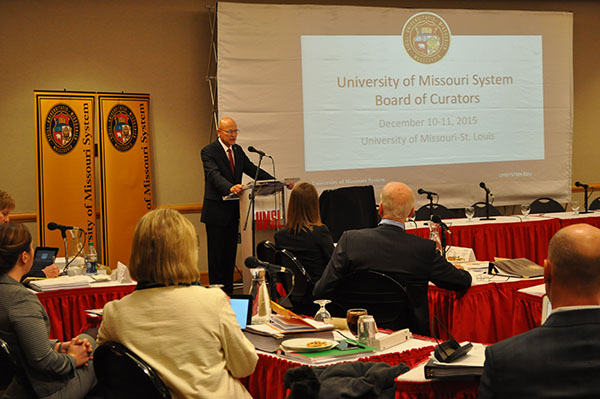 UMKC with Dr. Wilson, has certainly embedded diversity and inclusion as a part of how that campus operates. UMKC also has a developed remarkable method for conducting productive listening sessions that we hope to replicate on all four campuses.
No doubt there is much work to do. But as we move forward we must also remind ourselves daily that the university has not changed given the recent events. We have a very rich 176 plus year history of academic excellence and tradition. So, although this has been a difficult time, let's remember that the University remains an incredible asset to the state of Missouri and a beacon of hope for all Missourians. Even during the times of turmoil at MU our great university system never stopped serving our state and improving the lives of all six million Missourians every day. Educating more than 77,000 students, making advances in research that benefit all of us, providing health care to thousands of Missourians, sharing our experience in communities large and small through our Extension services across the state of Missouri, and certainly helping strengthen Missouri's economy. These activities that make Missouri a better place to live in have gone on unabated during this situation, further reinforcing that our great university has the brightest of futures ahead of it.
Our mission still remains the same and we will continue to uphold that mission as we tackle these tough issues. And, that's exactly what I intend to do. But we will be unable credibly to advance the mission of the university until we put in place mechanisms that promise realistically to work in addressing the issues that gave rise to our recent turmoil. Once these mechanisms are set in motion I'm confident in the leadership that we have to keep them moving productively toward real progress. Then as interim president, it is crucial that I manage the university and provide full support to the chancellors to carry out the important work the campuses.
Through this perfect storm I have heard from students, faculty, staff, parents, alumni, donors, friends and legislators — I've been talking a lot over the last three weeks. I have listened and will continue to listen and I believe I understand all of their concerns. Now more than ever we need everyone support to move this university forward. The University of Missouri is an incredible institution and as I've told several people I've talked with now, now is the time to thrive at this university. It's an immense time of change and as we grow we will flourish and truly become an example to be even more proud of.
Among some of the concerns I've heard, there have been reports questioning the value of and the need for a University of Missouri System. The UM System is in place to foster collaboration and manage resources to best serve the four campuses of our system by harnessing economies of scale, both administratively and academically; identifying and communicating best practices to the campuses; implementing shared services without eliminating operational unit agility and innovation; providing fiscal oversight to ensure effective and efficient use of resources; developing innovative funding sources; and leveraging skills that exist at the system and at the campus levels to add value to all the campuses.
I can assure you that without the UM System the cost of operating separate services for each of the campuses, as opposed to several of the centralized functions that we currently have in existence, would cost at least more than double systemwide. It is clear that the absence of a UM System would therefore be a short-sided and very costly proposition.
Yesterday you heard from Vice President Brian Burnett regarding the efficiencies and effectiveness initiatives that have benefited the university systemwide. These cost savings are just the start to what we can accomplish when we have a fundamentally valuable system in place to support our four campuses.
We have much to be proud of at the University of Missouri. The unfortunate events that captured much attention from the world in recent months are not a reflection of our great university. But, rather those incidents represent a longstanding, I repeat a longstanding, national, societal flaw. We are fortunate now to have an opportunity to become stronger and more equipped to handle these very difficult issues that have a presence on all university campuses. And, we fully intend to provide a positive example for our peers around the nation to learn from rather than to shy away from these experiences.
I'm truly honored and humbled to serve as interim president for the UM System. I'm committed to restoring the luster of the university that we all love and I'm confident that we will come out of this storm in a much better place than when we began. Thank you very much.
Comments