2013 Missouri State Fair
As home to the Missouri State Fair, Sedalia, Mo., welcomes hundreds-of-thousands of visitors to its city each August. This year, UM System President Tim Wolfe visited the fair on Governor's, Legislator's and Judge's Day which included the Governor's Ham Breakfast.
In addition to attending the breakfast, Wolfe visited Mizzou Central, a 10,000 square-foot exhibition area located in the Mo-Ag Building, features interactive displays where fairgoers can visit with university faculty, staff, extension agents, students and even meet Truman.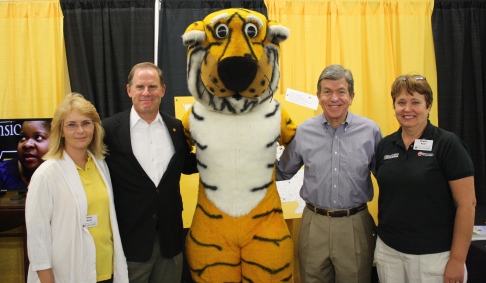 (L to R) Maries County Extension Nutrition Program Associate Dawn Hicks, UM System President Tim Wolfe, Truman the Tiger, Senator Roy Blunt, Gasconade County Nutrition Program Associate Debbie Raaf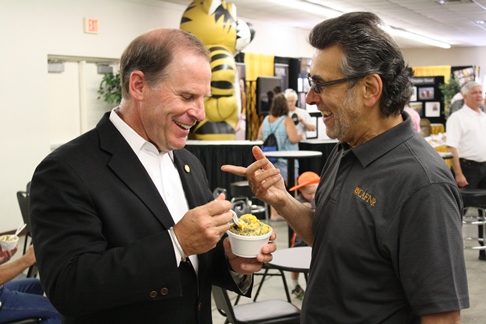 (L to R) UM System President Tim Wolfe and MU College of Agriculture, Food and Natural Resources Marc Linit
Visitors to Mizzou Central have the opportunity to take in the entire MU experience: a fully-functioning ice cream parlor featuring Tiger Stripe Ice Cream, Tiger Team Store, presentations from across the MU campus and free entertainment in our stage and seating area.
Comments