Chief of Staff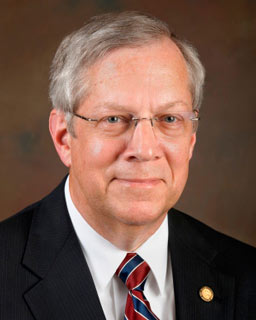 David R. Russell, Ph.D.
Commissioner Emeritus of Higher Education and Interim Chief of Staff, University of Missouri System
David R. Russell retired from public service March 1, 2016, after completing nearly six years as commissioner of higher education for the state of Missouri. Prior to assuming leadership of the Missouri Department of Higher Education, Russell had a 19-year career with the University of Missouri System, where he served successively as director of university relations, senior associate vice president and chief of staff and general officer. He returned to the University of Missouri System in September 2016 as interim chief of staff in the Office of the President.
As commissioner, Russell provided overall leadership for a state system of higher education that serves approximately 400,000 students through 13 public four-year and 20 public two-year institutions, one two-year technical college, 25 independent colleges and universities and more than 150 proprietary and private career schools. Under Russell's direction, the Department of Higher Education adopted policies and initiatives in the areas of student retention, time-to-degree and degree completion that have raised the national profile of Missouri higher education. He focused state resources on such goals as eliminating barriers to college completion for Missouri's students, making a college education attainable and affordable and promoting career pathways in such high demand areas as the sciences, education and the health professions. He also challenged the state's colleges and universities to work closely with public school districts to create seamless transitions from high school to postsecondary education that will ultimately contribute to student success.
During his career with the University of Missouri, Russell had responsibility for communications, strategic planning and public policy. He worked with the president and other general officers to integrate the activities of finance and administration, human resources, general counsel, government relations, information technology, communications and academic and student affairs. He also served as the UM System liaison to the Coordinating Board for Higher Education.
Russell serves on the boards of Columbia College and Western Governors University-Missouri. He is chair of the board of directors for the Community Foundation of Central Missouri.
Prior to his 25 year career in higher education, Russell served in the United States Army as a commissioned officer, retiring in 1991 as a lieutenant colonel after a 22-year career, including assignments in infantry, personnel management and public affairs. His personal decorations include the Legion of Merit, Purple Heart, Bronze Star, Meritorious Service Medal, Joint Service Commendation Medal, Army Commendation Medal for Valor and Combat Infantryman's Badge.
Russell holds a B.S. degree in education from Henderson State University, Arkansas; an M.A. in communications from The American University in Washington, D.C., and a doctoral degree in educational leadership and policy analysis from the University of Missouri in Columbia. His dissertation examined the process of securing public and political support for higher education reform. He is a frequent presenter and lecturer on topics related to higher education, public policy and governance.
He is married to Lee Russell and together they have six sons and eleven grandchildren.
Reviewed 2017-01-19.