Strategic Planning

Navigation
DRAFT Strategy Statements
Resources
Contact
Henry C. Foley
Executive Vice President for Academic Affairs
309 University Hall
Columbia, MO 65211
(573) 882-6276
Email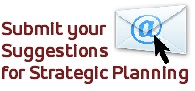 UM System President Tim Wolfe outlined his strategic priorities to the Board of Curators on April 6, 2012 (view the press release). The six priorities focus on opportunities that allow the university to better execute its core mission areas of teaching, research, service and economic development. Among the priorities was the development of a strategic planning process that would chart the future course of the university. Work began in June, 2012, at the system and campus levels to develop clear and compelling strategy statements for the next five years that: clearly articulate the campus' objective, scope and advantage; have related metrics; drive the campus strategic goals and action plans; and are supported by a viable financial plan.
NEW University of Missouri System president announces funding awards for campuses' strategic plans (Aug 30, 2013)
Reviewed 2013-09-19.