University of Missouri System President Mun Y. Choi
---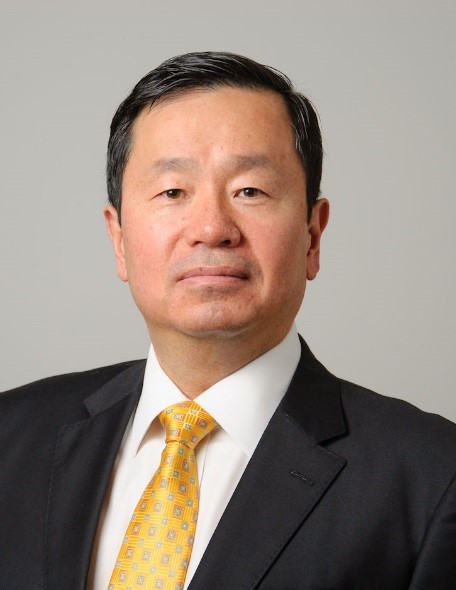 Dr. Mun Y. Choi
President-designate of the UM System
About President Mun Y. Choi
Following a near year-long national search, the University of Missouri Board of Curators announced the appointment of Dr. Mun Y. Choi, 52, as the 24th president in the history of the University of Missouri System on November 2, 2016. The former provost and executive vice president of the University of Connecticut (UConn), Dr. Choi succeeded Interim President Michael Middleton on March 1, 2017.
Dr. Choi's 24-year career in higher education includes his present position as provost and executive vice president at UConn, one of the nation's top 20 public universities in the latest U.S. News rankings. Since 2012, he has overseen a budget of $700 million while working with 1,500 full-time faculty, 31,000 students and 2,000 staff across 12 schools and colleges including Schools of Medicine, Dental Medicine and Law. Under his leadership, UConn developed several innovative new programs that have resulted in enrollment growth, increased faculty hiring, innovative research and new and expanded industry partnerships.
Born in South Korea, Dr. Choi came to the U.S. as a child. As a young man, he worked in his family's successful business in Chicago, and later graduated from the University of lllinois at Urbana-Champaign with a bachelor's degree in general engineering in 1987. He later earned a master's degree and doctorate in mechanical and aerospace engineering from Princeton University.
Prior to serving as provost and executive vice president, Dr. Choi was dean of engineering at UConn from 2008 to 2012. Earlier, he was department head of mechanical engineering and mechanics at Drexel University (2000-2008) and assistant and associate professor at the University of Illinois at Chicago.
"Becoming president of the University of Missouri System is unquestionably the pinnacle of my professional career," said Dr. Choi. "As a product of and passionate champion for public higher education, I will advocate tirelessly on behalf of our exceptional institutions with state and national business, political and civic leaders to achieve excellence in all that we do, and make sure our great campuses realize their full potential."
---
What Others Are Saying about Dr. Choi
"Mun Choi is a talented and tenacious leader, so it comes as no surprise that an excellent system like Missouri would select him to be its next president. Any university would be lucky to have him. While we are saddened to lose such an outstanding colleague and friend, we are very happy for Mun and his family and wish them all the best. Mun and I have worked closely together on countless critical issues here in Connecticut, including a major faculty expansion, the creation of our new academic plan, and the implementation of transformative capital investments, to name only a few. I cannot thank him enough for his service to UConn and for his friendship."
– Susan Herbst, President, University of Connecticut
"It has been a pleasure working with Provost Choi on issues critical to the success of UConn, eastern Connecticut and our entire state. UConn is a point of pride for our state both for its academic achievements and for its ability to generate economic growth. Mun has been a key part of these accomplishments, and I appreciate everything he has contributed to eastern Connecticut during his time here. I wish him all the best with his new opportunity in Missouri."
– U.S. Congressman Joseph Courtney, Connecticut 2nd District, House Education and Workforce Committee
"I have had the great pleasure of working with Dr. Mun Choi in connection with environmental education at the University of Connecticut. He has a keen intellect and lively interest in all academic subjects that helped to bring him success in his role in Storrs as I am sure it will here in Missouri. I know that he and his family will fit in well in the Columbia community and in our state generally, helping to lead us to substantial gains in excellence and performance for all parts of the state system."
– Peter Raven, President Emeritus, Missouri Botanical Garden
University of Missouri Curator, 1985-1991
"Dr. Choi is an outstanding leader and academician. He will uphold the fine traditions of the University of Missouri System while improving its stature as a premier land grant institution."
– John Kim, President, New York Life
"My colleagues and I have witnessed, first hand, the efforts of President Herbst and Provost Choi, to attract and retain the superior faculty and administrators that are benefitting not only the student body at UConn but are helping to build a strong economic future for Connecticut. The team of remarkable individuals that Provost Choi built and the innovative programs that he developed will sustain our appreciation of him for many years to come. We join President Herbst in saying that we are sorry to lose Mun, but Missouri has made a great choice and we congratulate him on his appointment."
– John Fonfara, Deputy President Pro Temp, Connecticut State Senate
"Mun has been an exemplary leader at UConn for many years, and we hold him in the highest regard. He will be a terrific president of the University of Missouri System. We are sorry to see him go, but we also understand that leaders of his caliber are highly sought after throughout the nation. We congratulate him and wish him well."
– Lawrence McHugh, Chair, University of Connecticut Board of Trustees
"In Mun Choi, the University of Missouri System is getting one of the finest men I have ever met. He is bright, articulate, engaging and has unique leadership skills that very few have. Mun has impacted so many lives here at UCONN and will do an extraordinary job for the University of Missouri System. I will miss him as a colleague, and more importantly, as a friend."
– Geno Auriemma, Head Women's Basketball Coach, University of Connecticut
"Best wishes to Mun Choi as he takes on his new position as President of the University of Missouri System. During his time at UConn, we had many opportunities to work together, and I have always found his approach to academic leadership collaborative, innovative and thoughtful. And as the current chair of our Senate Executive Committee, I have truly enjoyed working him, as he has helped make shared governance a real concept. Most generally, we will miss his efforts to aggressively advocate for our university, its faculty and students in our state. I am confident that he will be even more successful doing the same in Missouri."
- Mark A. Boyer, Board of Trustees Distinguished Professor and
Chair, Senate Executive Committee, University of Connecticut
"As Dean of Engineering and as Provost at UConn, Mun has prioritized the care and cooperation of deep partnerships between the University and the private sector. These efforts have resulted in an improved, collaborative educational and research environment for students, graduates and both university and private sector researchers. We look forward to the successes his vision and leadership will enable at the University of Missouri System."
- Dr. J. Michael McQuade, Senior Vice President, Science and Technology, United Technologies Corporation
"I have had the deep privilege of serving on the UConn Foundation Board for 7 years, witnessing first-hand Dr. Choi's visionary leadership and unwavering commitment to our faculty, administrators, students, alumni and broader community. He is a true modern thinker, committed to collaboration and partnership with all whom he serves. Dr. Choi's legacy will live for decades – from the creation of highly competitive STEM programs, to the establishment of best-in-class workforce development programs, to the forging of strong business partnerships that move Connecticut forward in the global economy. Missouri has found a true treasure in Mun Choi, and we wish him all the best on his next great adventure."
- Constance Weaver, UConn Foundation board member and
Executive Vice President of Teachers Insurance and Annuity Association (TIAA)
"Provost Choi has been an extremely effective and strong academic leader for UConn. His initiatives for increasing research and academic quality have been thoughtful and ambitious at a time when the State of Connecticut has struggled with an ongoing budget shortfall. During these efforts Provost Choi has been transparent, accessible and has worked closely with faculty leadership through the University Senate to resolve a host of issues of concern to the university community. He has demonstrated a deep respect for faculty input."
- Gary English, BOT Distinguished Professor of Dramatic Arts and
Past Chair of the University Senate Executive Committee, University of Connecticut
"Provost Choi was an extremely valuable member of the University of Connecticut administration. His collaborative efforts were seen and felt campus wide. His desire to help students motivated everything he did at UConn. Not only did he listen and consider students' concerns, but acted on them. Provost Choi made UConn a better institution with his commitment to academic excellence, his dedication to community and the love for his work. I am proud to have worked with him because he is a genuine team player."
- Daniel A. Byrd, Undergraduate Student Body President, University of Connecticut
"Mun Choi has been instrumental in not only making the University of Connecticut a top research institution but also in strategically linking the University's mission with the state's economic development efforts. The University of Missouri System could not have chosen a more capable and inspirational leader."
- Joseph Brennan, President and CEO, Connecticut Business and Industry Association
---
Presidential Search Committee Information
The university wishes to extend its thanks to the Presidential Search Committee (pictured below) for its efforts and commitment toward selecting the 24th president of the University of Missouri System.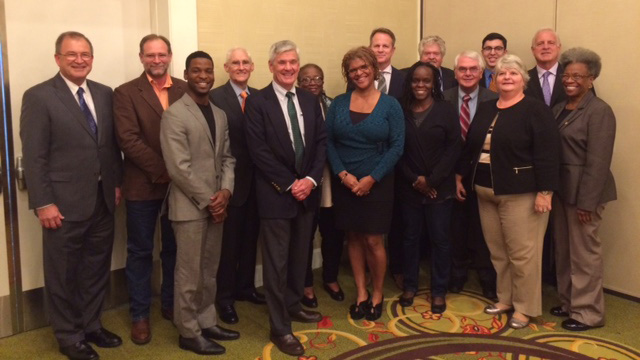 From left to right: Donald L. Cupps, C. Joe Boehm, Rakeem Golden, Maurice B Graham, James H. Whitaker, Mary E. Nelson, Cheryl D. S. Walker, Jon T. Sundvold, Stephanie Shonekan, John R. Phillips, Thomas R. Voss, Patrick Graham, Pamela Quigg Henrickson, David L. Steelman and Sheilah Clarke-Ekong. Committee member Phillip H. Snowden is absent from this photo.
| Presidential Search Committee Archive | | Presidential Search News Archive |
| --- | --- | --- |
| | | |